If you are looking for a side hustle idea you can easily do from home, an online transcription job may just be a good fit for you.
There are two things you will love about this job:
Being able to work from the comfort of your home.
The ease with which you can turn it into a part-time job if you work a full-time job.
With that being said, like other work from home jobs, there are a couple of things you may want to consider when looking for a transcription job:
Is the job open to a beginner?
How much the job pays?
How trustworthy is the company – based on reviews from employees
By looking at the three points, you would be able to know if the job is open to you, pays well or if the company is one you want to work with.
But first, do you know your role in this job.
Of course, it may seem simple. But, of course, it probably won't hurt to know what you are going to be doing working a transcription job.
What does a transcriptionist do?
As a transcriptionist, your job is to listen to audio messages and convert them into text format. So that entails that you need two skills:
Great listening skills
Decent to fast typing skills.
How do online transcription jobs for beginners pay?
Most transcription companies offer two payment structures:
Per audio minute transcribed
Per the number of words transcribed.
The first option will pay you on how many minutes or hours of audio messages you correctly transcribe to text, while the second pays you based on the number of words you correctly transcribe.
Now, having said that, what are the best entry-level transcription jobs that you can do even if you are a total beginner. Let's check them out.
Are online transcription jobs worth it?
That question may be a bit hard to answer since each individual has a different opinion of a good pay.
But to get an idea of how much you would possibly make per hour, you would want to divide what the companies' estimated payment per audio hour by 5 or 6.
So that being said, a beginner should make between $10 and $20 per hour with transcription.
Now, to know if it's worth it…
Suppose you earn $12 per hour and you spend 3 hours a day transcribing, you can be expecting to earn $1080 a month transcribing, which, I think is decent for a side income.
But if you need more paying jobs you can do from home, you can check out my post on high paying part time jobs or online jobs for introverts.
Now the challenge with that is that some of these transcription companies may not regular jobs to pass around. To deal with that, you can see the next point.
Register on as many transcription companies as you can
Not all of them are going to accept your application, but you will at least get approved by 5 companies. Doing that will ensure you have a regular flow of jobs coming in and earn better than an average transcriptionist.
How do I get paid to transcribe?
In this post, I've listed 19 best online transcription jobs for beginners. So do feel free to check read through, compare and choose which one is most suitable for you.
19 Best Online transcription jobs for beginners
1. GoTranscript
GoTranscript is another transcription job to check out if you are just starting. 
You can apply for their transcription job even if you are not resident in the US or other native English speaking countries.
GoTranscript online transcription jobs payment
Gotranscript pays up to $0.6 per audio minute. Gotranscript also claims that their top transcribers earn about $1215 per month.
For an average transcriber, however, I think it's a rather flat curve – with about $150 per month.
I do however believe you can earn $1000 with transcription – if you put in extra hours.
I need to add that if there are fewer jobs to pass around to so many users, your earnings will be limited – even if you have the hours to spare.
So it may be a good idea to register with at least 3 transcription job companies.
Looking for other ways to complement your income? you can check out my post on 11 ways to make $500 fast.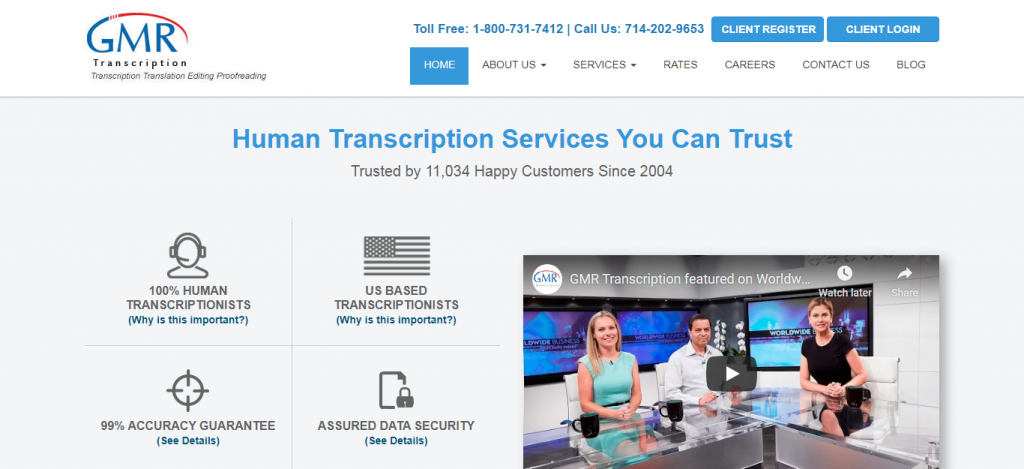 GMR is one of the best transcription jobs for beginners for quite many reasons: One of which has to do with amazing reviews this company has gathered on job portals.
More on that soon!
But for now, let's see how you can get started and how much you can expect to earn with this company.
Interested in GMR's online transcription jobs for beginners?
First off, you have to wait for a few days to have your application reviewed and approved.
After that, you will be placed on a 2-hour probation trial meant to test your transcription skills before you get paid for your subsequent transcriptions.
How much does GMR pay?
GMR claims that their transcriptionists earn between $1000 to $3000. 
While that may sound good generally, it helps to keep in mind that what you can earn as an individual will depend on many factors:
How often you take a project
Your experience etc.
While it pays much better than most other entry-level transcription jobs, some jobs still pay better. I'll suggest you see my post on 30 part-time night jobs that make $5000/month.
Is GMR transcription legit?
GRM transcription has 4.6 ratings on Glassdoor as at the time I'm writing this post – which is pretty great.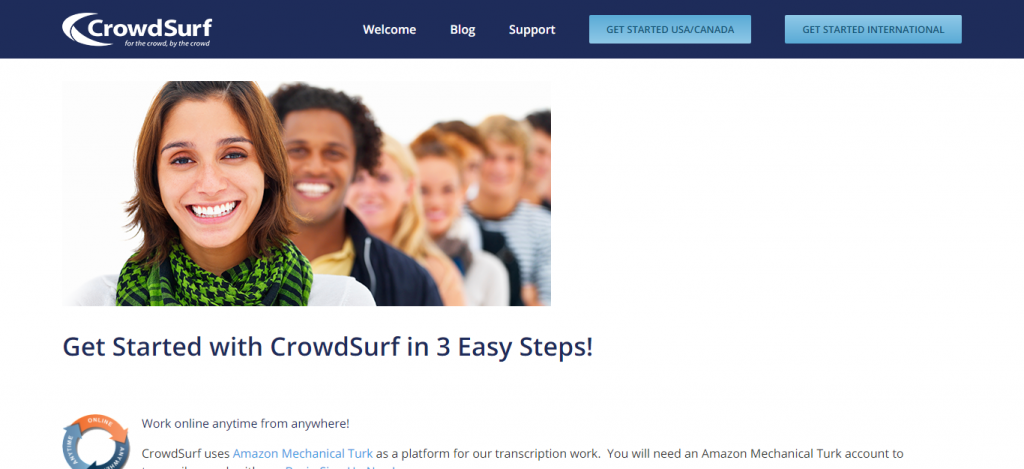 Crowdsurf offers transcription jobs for beginners both in the US/Canada and international applicants as long as you are a good user of the English language.
Their other requirements are simple typing skills, good listening skills, and of course, a PC with a fast internet connection.
How much does Crowdsurf transcription job pay?
With this company, you can expect to make between $0.03 to $0.2 per audio minute, which per hour equals $1.8 to $12.
Crowdsurf review?
Crowd surf has 1.9 ratings from 39 reviews on Glassdoor, which may not be unexpected considering their pay rates. In fact, most of the complaints they get on Glassdoor center around that.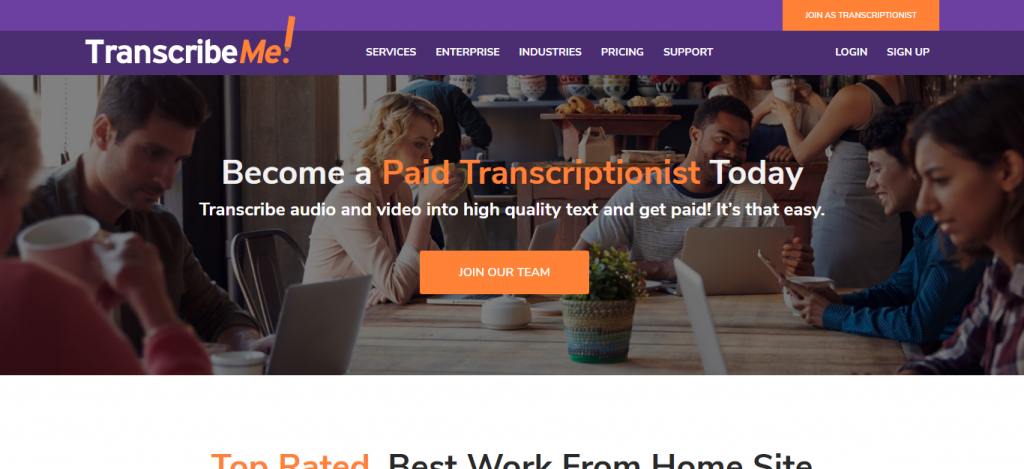 TranscribeMe is another well-known company that offers entry-level transcription jobs for beginners. 
It's also interesting to note that their job openings are not only restricted to US or Canadian citizens – like most other transcription companies.
How much does TranscribeMe pay?
TranscribeMe pays between $15 and $22 per audio hour. Now keep in mind that it would possibly take you at least 5 hours to transcribe an hour audio file, especially, as a beginner.
With that in mind, you could be looking to earn $3 to $4.4 per hour working with them. With that being said, it would be helpful to see what their employees think in that respect.
TranscribeMe has 3.6 Indeed ratings by their employees.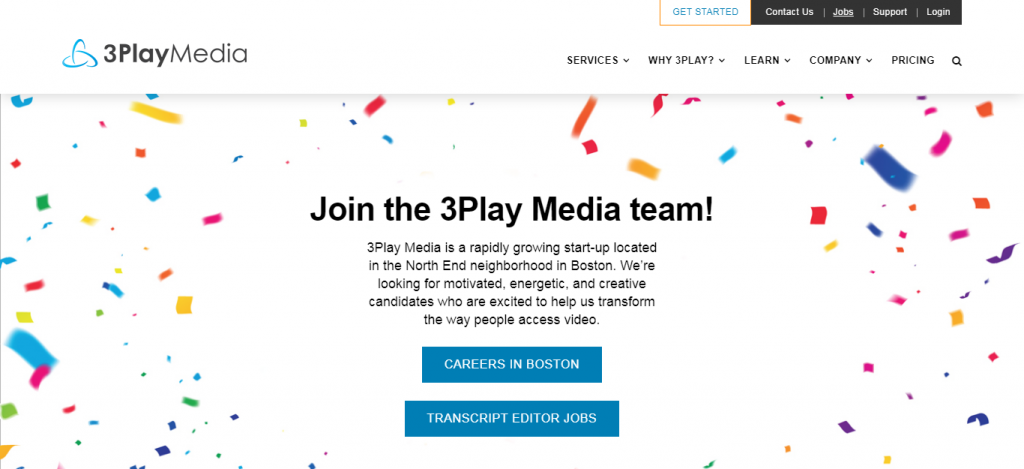 3PlayMedia hires both English and even Spanish transcriptionists.
With this company, you could expect to make between $10 and $30 per hour – as they claim on their site.
But if you are like me, you probably will take any claim coming directly from a company with a pinch of salt.
So I guessed, it would be a good idea to know what their employees think.
3PlayMedia has 3.5 review Glassdoor ratings on by their employees.
They do have their requirements on their hiring page, so do make sure to check them out.
AccutranGlobal has entry-level jobs for beginner voice writers and real-time stenographers.
Their requirements are excellent communication skills, good time management, and accuracy. Expertise in financial, though not required, will likely boost your chances of being approved.
And of course, you need a PC with a stable internet connection, good quality headphones.
How much does AccutraGlobal pay?
Based on the pay rates on their site, you can expect to make at least $75 for events that are 1 hour long.
Quicktate hires beginner transcriptionists not just for English, but also for other popular languages like French and Spanish.
Besides that, you will also get to choose jobs based on your field of specialty, if you so like, as they also offer medical, legal, and general transcriptions.
Quicktate doesn't have information about their payment on their site. 
However, if to go by their employees' reviews on Indeed, you could expect $0.01 for 4 words of general transcripts and $0.01 for 2 words of medical transcripts.
Let me add that Quicktate has a rating of 3.3 on Indeed as of the time of writing.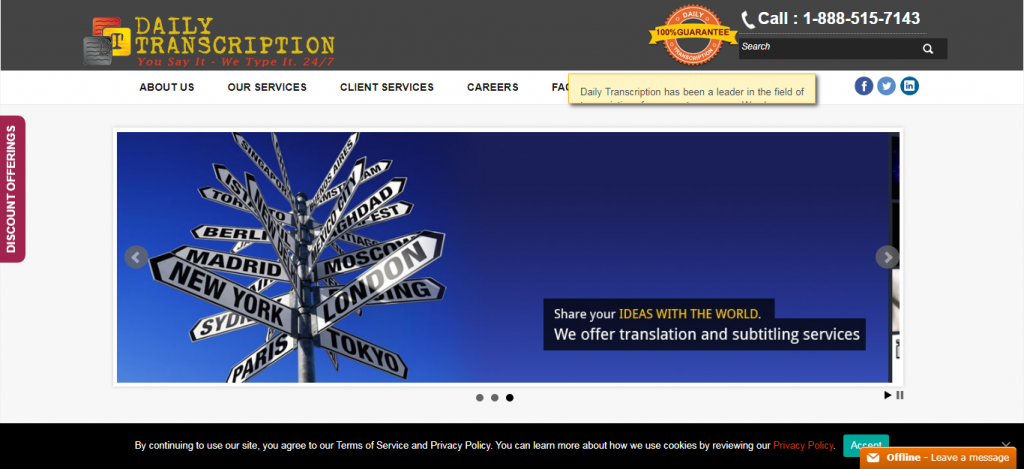 While Daily Transcription is another good company to check out, the only caveat is that they only offer transcription jobs for beginners in the US and Canada.
How much does Daily Transcription pay?
According to Daily Transcription, you can earn between $0.75 and $0.85 per audio minute, which translates to between $45 and $50 per audio hour.
Keep in mind, however, that your earnings per hour will be determined by how long you take to transcribe one hour of audio.
They, however, claim that their top Transcriptionists earn between $250 and $950 per week. If you put that per month, you would have $1000 to $3800 per month.
How to apply for Daily Transcription job 
You can easily apply for Daily Transcription on their career page here.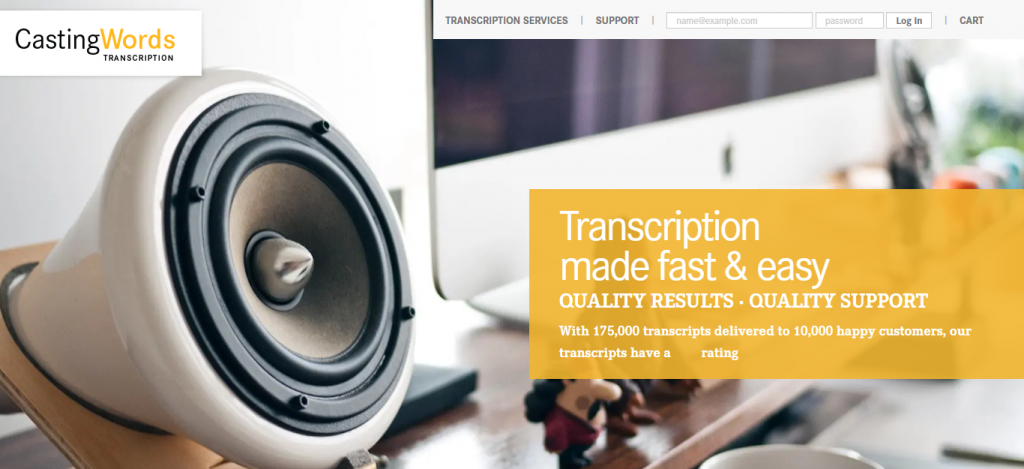 Casting Words is not only open to entry-level transcriptions, they also allow applications from different countries.
How much does CastingWords pay?
Sadly, they don't have that information displayed on their site. Nevertheless, Casting Words charges their clients between $1 to $1.75 per audio minute, which by a simple calculation, would go for $60 to $105 per audio hour.
Given that a beginner abstractionists would, possibly, spend at least 5 hours per hour audio file, and the company would need to take their cuts, you should be looking to earn less than $8 per hour for some jobs.
Looking to get started with Casting words, then go ahead and check them out.
Rev is another popular company that offers entry-level transcription jobs.
According to Rev, their transcriptionists can earn between $0.30-$1.10 per audio minute, which I think is on the low side, at least, compared to some other companies on this list.
Having said that, it might help to know what their transcriptionists think though.
On that, Rev has 2.7 ratings on Indeed (as at the time of writing).
Do keep in mind, however, that besides transcription, Rev also offers captioning jobs, which can be another way to add more earnings.
How to apply
To apply for Rev transcription jobs, simply go to their hiring page to sign up as Rev Freelancer.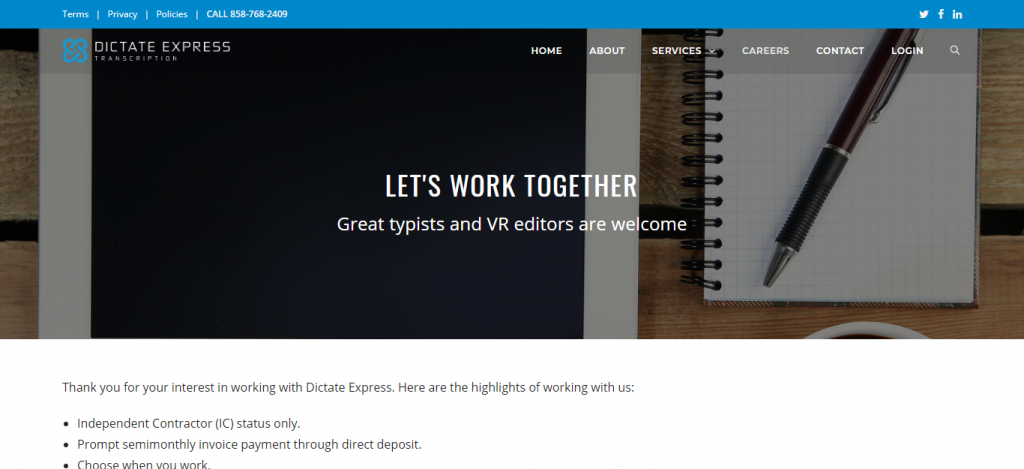 Dictate Express is another company you need to try out for beginner-friendly transcription jobs.
With that said, this site has a requirement that is strictly peculiar to it: To keep working with them, you have to transcribe at least 45 minutes daily.
Besides that, the other requirements are quite applicable to most transcription job companies. And that includes:
High-speed internet
Good communication skills
A PC with Windows 7 or later versions 
Good Knowledge of Microsoft words
How much does DictateExpress pay?
DictateExpress doesn't reveal their pay on their site. However, to go by reports from their transcriptionists, you can probably expect about 70 cents line.
DictateExpress has 3.6 indeed ratings by their employees at the time of writing.
Keep in mind that Dictate Express will require you to take their spelling quiz test.
Other online transcription jobs for beginners
Besides online transcription jobs, Verbalink also has proofreading, copyrighting, and editing jobs, which you can add to make more money.
To apply for their transcription jobs, you have to send an email to them via the email on their hiring page.
Important: Do keep in mind to attach your resume and cover letter in Microsoft word format to be considered.
Tigerfish only allow applications from US citizens. You also need a strong sense of written English to be approved.
If you are good with that, you can go ahead and follow the instructions to apply here. 
Do keep in mind, though, that you will first be put through a trial transcription test to be approved.
This company is always on the lookout for entry-level transcriptionists to add to their team.
You can either apply as a full-time employee or as an independent contractor.
How much do they pay?
According to them, their transcriptionists make between $30 to $180 per audio hour.
Giving that into consideration, you would possibly expect between $5 to $36 per hour if you spend 5 hours to transcribe 1-hour long audio, which is typical for most beginners.
To work with them, click the apply button at the bottom of their job page to be directed to a page where you can fill the application form.
TranscriptionHub has work from home transcription jobs for beginners anywhere in the world. With that in mind, you could apply even as a non-native English citizen.
However, please keep in mind that they do require you to be sound in the use of English.
BabbleType requires good listening skills and being able to handle complex transcript formats.
Besides transcription, they also offer editing and translation opportunities, which can help you add more income.
How much does BabbleType Pay?
BabbleType doesn't have that on their hiring page. 
Nonetheless, it could be safe to expect about $8/hr average, given the reviews left by their employees on Glassdoor.
To apply for their transcription job, you can go over to their hiring page and follow the video instruction.
With Terescription, you can have the freedom to set your own working hours.
To be hired, you must be at least 18 years old. Their other requirements are good listening and punctuation skills.
You will also be required to transcribe a test file before you are approved.
Besides transcription, you will also be able to apply for their copywriting, editing, and proofreading jobs.
To apply for their transcription job, you can send them an email to the address on their hiring page
Ubiqus is another company to check out for online transcription jobs for beginners.
But do note that they only welcome applications from US and Canadian citizens.
To work for this comply, simply head over to their site, select your country and proceed with your application.
My final thoughts on online transcription jobs for beginners
Most transcription jobs are not meant for full-time income, but 100%, I would say it's a good way to make money on the side.
Now, if work a full time job, then a transcription job can be a side hustle for the weekend.
However, for a stay at home mom looking to make a full-time income, I think there are other jobs that pay much better. I suggest you see my post on work from home jobs.
Have you tried any of these jobs? You can share your experience in the comment.