I can say that starting a blog is one of the best decisions I've ever made.
A short story about my journey?
Before starting this blog, I was a Math teacher in a private school. I loved teaching , and so it was fun.
But ,really, working from home and being in control of my own time has been a dream I had for a long time.
So one day, I was on Google and saw a post about 10 highest paid bloggers with the likes of Daren Rouse of problogger.net and Pat Flynn of smartpassiveincome.
That looked like what I wanted but I really didn't start my blog then. It was a mistake I still knock myself for till today.
I started blogging in 2018 and it turned out to be one of the best decisions I have ever made.
Within six months, I was already earning 3x what I got from my job. But it wasn't just about the money.
Most important, I felt I was in control of my own schedule – for the first time.
I was, finally, able to have a profitable business of my own – what has always been a long time dream.
So in 2019, I finally quit my job and became my own boss.
I now work less, earn 3X more and live the life I had always wanted to live. What was it? A life where my choices won't be limited by my wallet.
But there are bloggers who make even more money than I do.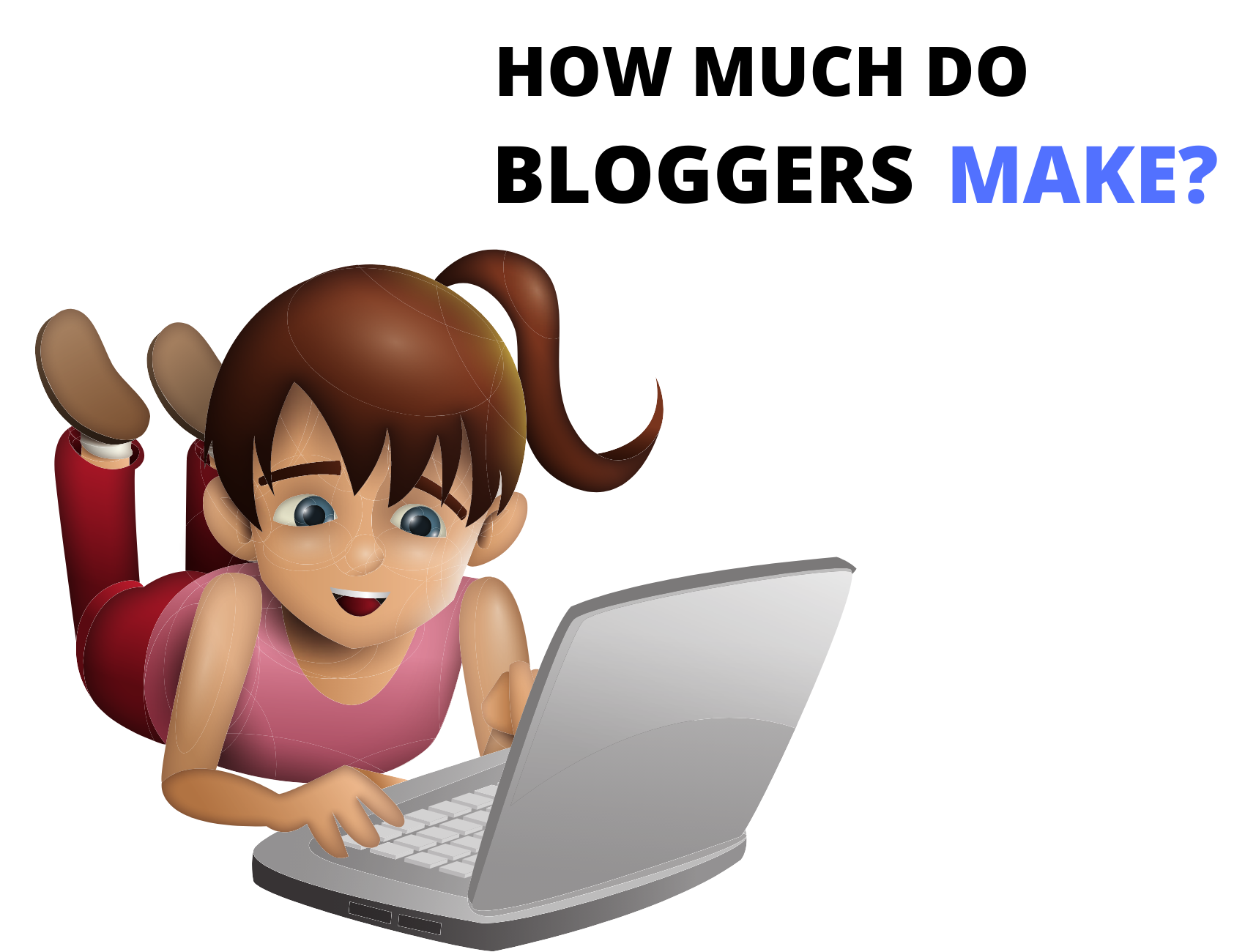 | | |
| --- | --- |
| Tim Sykes | $1,000,000+ |
| Sarah Titus | $250,000+ |
| Pat Flynn | $250,000 |
| Melyssa Griffin | $250,000+ |
| | |
First – You don't need these things to make money blogging.
1. Fancy English from the Queens' very own Thesaurus
As you may guess, I'm not a native English speaker and my grammar is not great either.
So the truth is that your readers will be everyday people like you and me. They only need your idea.
2. You don't need to be an expert
Most of the tips I write on in this blog are what I learn along the way from reading other blogs.
7 EASY STEPS TO START YOUR OWN WORDPRESS BLOG
Step 1. Choose Your Blog Host
Advantages of Hosting Your Blog on Bluehost?
Bluehost has great customer support. You can easily reach connect to their help team via chat in less than 1 minute and get any issue fixed.
All Bluehost plans support unlimited storage and bandwidth. That means no limit on the size of files you can save or the numbers of monthly visitors to your blog.
1. Choose your domain name
Before you choose a domain name, make sure it is related to the niche you want to blog about.
If you hear incomefizo.com for the first time, you would possibly guess it features business, money or something of such.
Now, it is not wrong to go for some cool domain names, but do make sure that it is at least when someone hears it, they can easily guess what your blog is about.
For example, jumpjumpkangaroo.com sounds like a cool domain, but it won't fit as much for a fashion blog as prettydolly.com. Right?
After that, you want to make sure that your domain name is available. That means it has not been taken by someone else.
Simply enter your domain name in the box below.
If your choice of domain name is not available, don't worry. You just need to think about another domain name and try again.
If your choice of domain name is available, you can scroll down for the next step.
Step 2. Select your plan
The first thing is to buy your hosting plan on Bluehost plan.
On the Bluehost page, move the cursor to "wordpress" at the top left corner of the page and click "WordPress Hosting" in the drop down menu.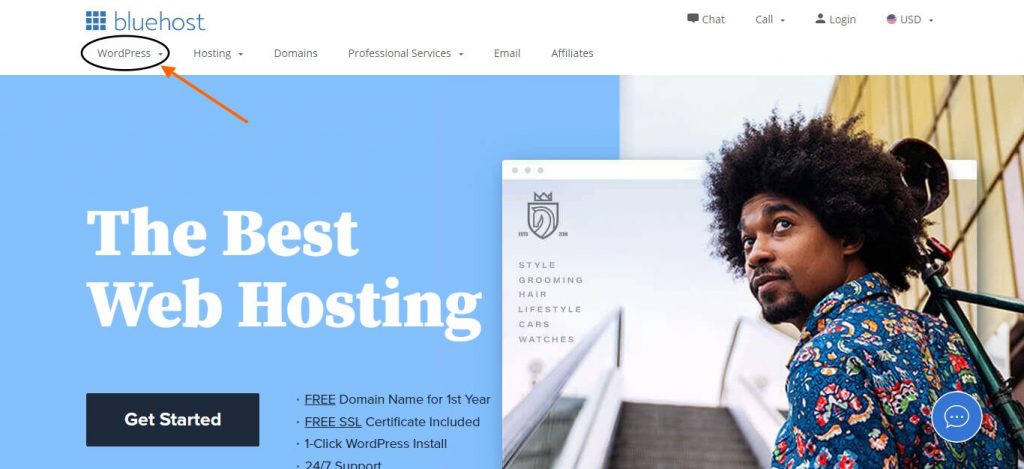 After that, you will land on a page that looks like what you have below. On this page, you will be able to choose the hosting plan you want.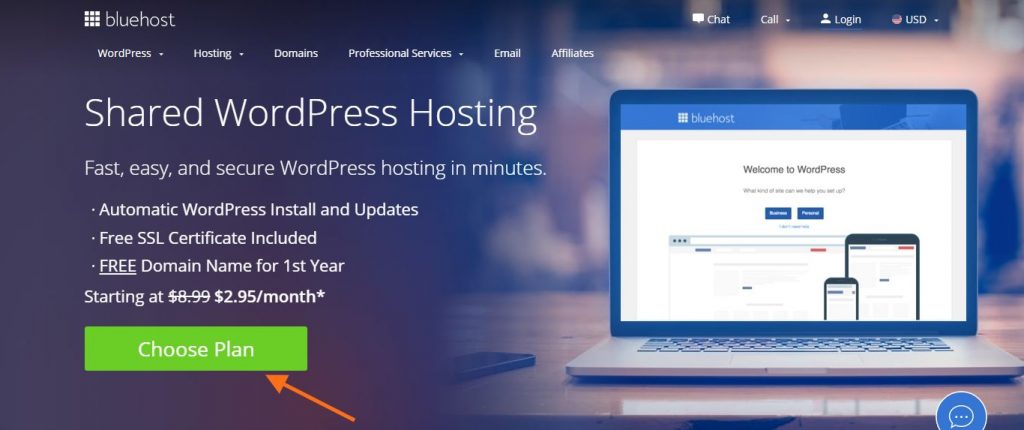 Click "Choose Plan" and Bluehost will instantly take you to their available hosting plans.
Bluehost has different plans, but you only need their Basic Plan for a new blog.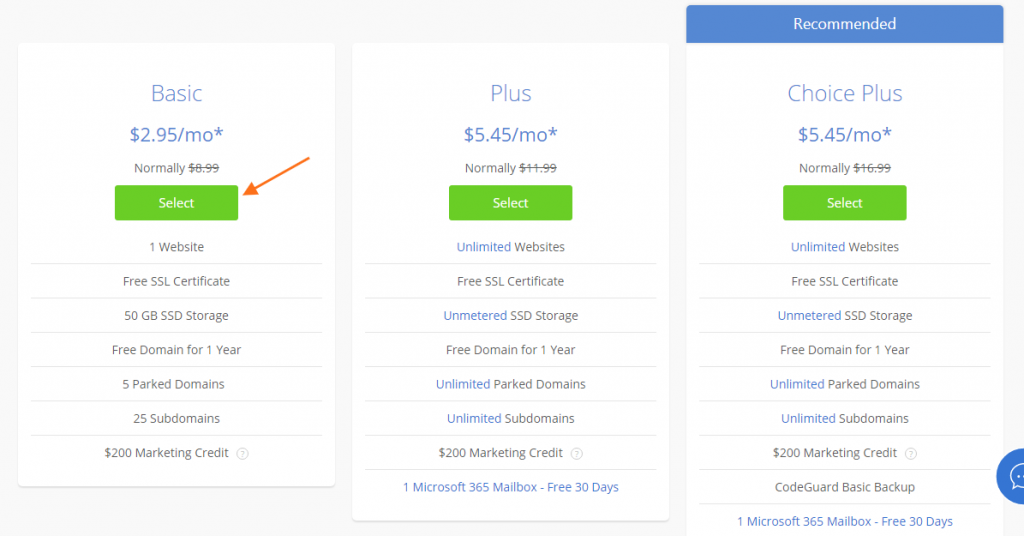 After selecting the Basic plan, Bluehost will take you to a page where you will add your domain name.
Now, you need to type the domain name you want to use into the text box for Create a new domain.
For example, suppose I want to use tundeige.com, I would enter it like this: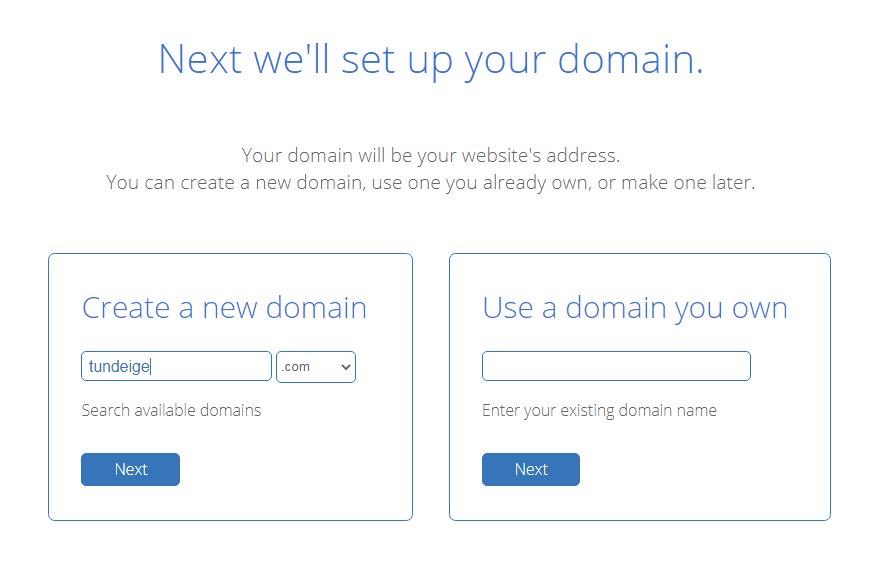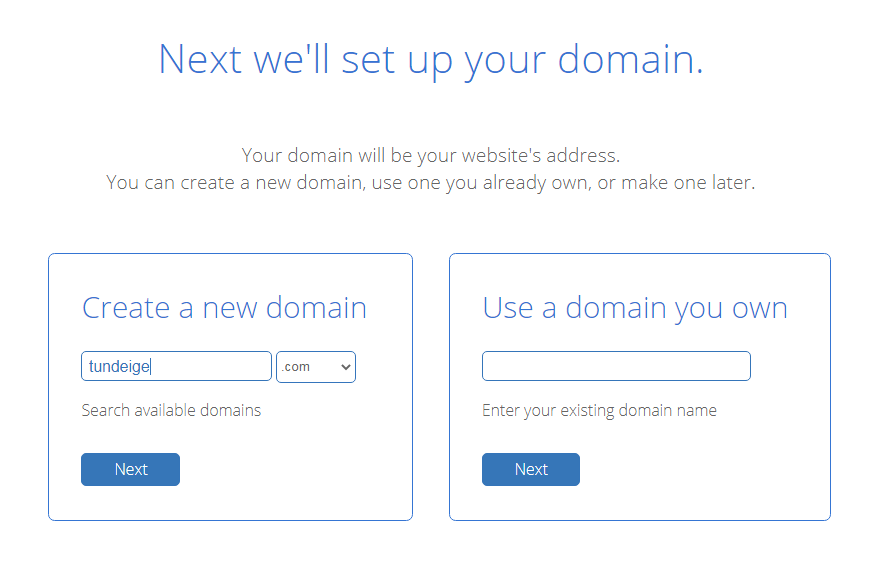 Now, on the new page, simply fill in your necessary details.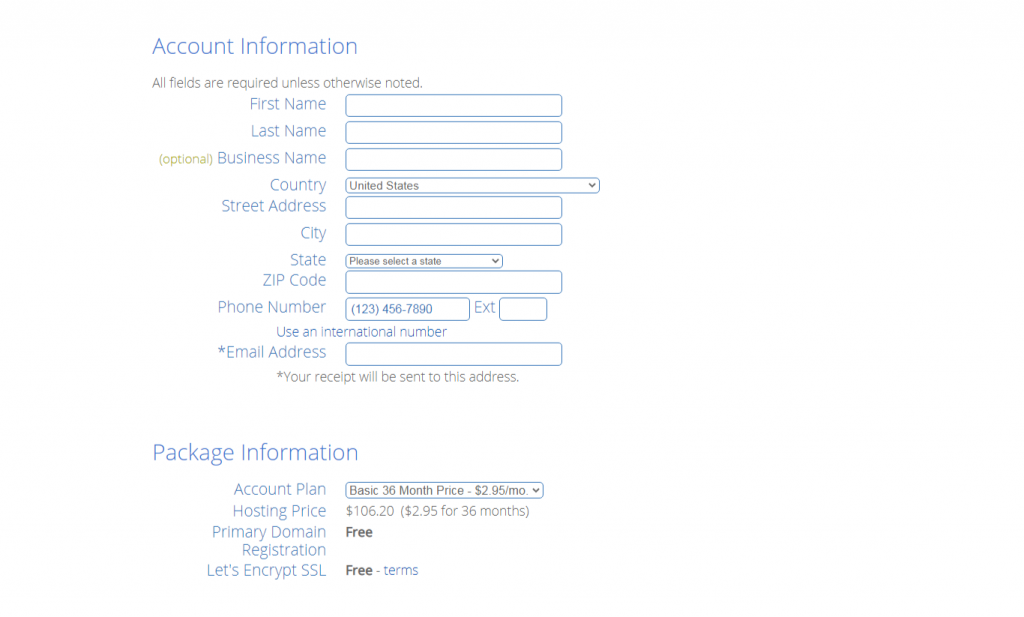 Under the "Package extras", simply uncheck everything and only leave "Domain Privacy + Protection" as I did here: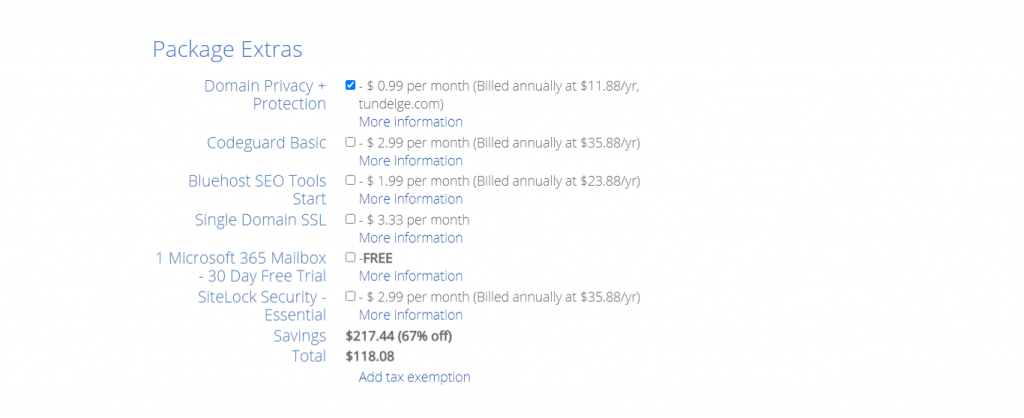 Now, simply enter your card payment details and click submit to complete your purchase.
SPACE
Now, in your Bluehost account dashboard, click on "My Sites" and Bluehost will take you to the page where you will complete your site.
On that page, simply click "Create Site" and follow the prompts to complete your site.


Finally, yousite is set and Bluehost will take you to your wordpress dashboard.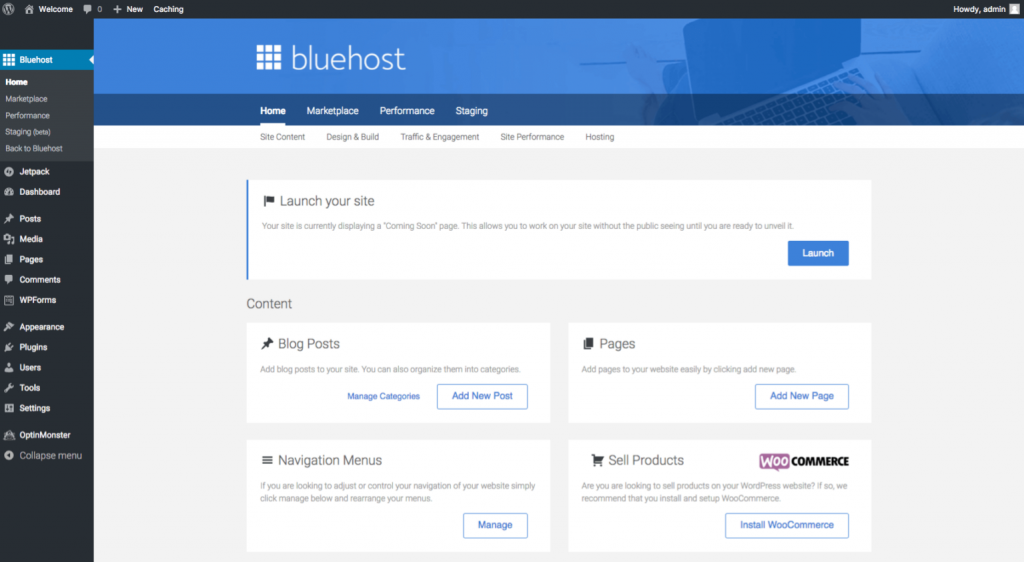 What's next?
Bluehost will send you a welcome email to the email address you used to register. The email contains a link to your control panel and your login details: Username & Password
1. Click on the link and login to your Bluehost account CPAnel with your login details.
2. Install WordPress
Now that you are in your CPanel, you are almost done. The final step is to install WordPress. You can do that in really easy peasy steps:
Look for "Quick installs" in your CPanel.
Click on WordPress.
Fill your WordPress form with your details.
NOTE: You should use only your email address that you still access – and also different usernames and passwords from the ones you used for your Bluehost CPanel.
Crosscheck the WordPress form and ensure they are correct. You can always change any of your details later, even after completing your WordPress setup, but it's better to get it all done right now.
If you're sure, you've correctly filled your WordPress form, click "Install WordPress".
And Boooooooooom! Congrats. Your WordPress blog is done set up.
Some frequently asked questions about making money blogging
How easy is it to set up your blog?

You don't. If you can tap a click a mouse, you can set up a blog. I will show you all the exact steps right in this post. If you follow the steps in this post, it will only take you about 5 minutes. You don't even need any technical skills.
What is the best platform To Start A Blog?

Your self hosted WordPress blog! Having your own hosted WordPress blog gives you so much flexibility, access to thousands of themes and plugins that make your job easier.

What more? You own your blog, your content and your business.
Should you use a free blogging platform?

I have tried the best of both worlds. YES, you can start a blog with a free hosted site. I even started my blog on blogger before migrating to WordPress.

But the problem is that you don't really own the blog. For example, a free blogging platform can delete your blog at anytime. I lost two blogs on blogger sometimes ago after editing my theme.

So what happens to the contents you've worked so hard for? Unfortunately, they 'll also be gone with no compensation or explanation.
How long will it take to make money blogging?

To be honest, it's different for different people. I also know people who started making money on their blogs right from the first month. But if I'm to give time, I believe you should be make a decent income in 3 or 4 months if you are committed to it.