This post may contain affiliate links. You can read more about my affiliate disclosure
here
.
Should you start a blog? Well, I won't really want to answer that question for you…
But I will tell you what values blogging has added to my own life.
So, if after telling you how blogging has changed the quality of my life and you feel it's worth it, you can slam the hammer really hard on the nail… and set up your won blog right away.
So, here we go…
I was a secondary school teacher a couple of months ago. Teaching was fun for me but my income wasn't. Trust me: I barely had enough to feed your puppy.
It got to me and I did the unexpected: I quit and started my blog…
It was a tough decision – but it's worth it now:
I now work less, earn 7X more and live the life I had always wanted to live right from the university.
What was it? A life where my choices won't be limited by my wallet.
Do You Think it's Worth it? Then you can read on from here.
HOW TO START YOUR WORDPRESS BLOG ON HOSTGATOR
Should you use a free blogging platform?
I have tried the best of both worlds. YES, you can start a blog with a free hosted site. I even started my blog on blogger before migrating to WordPress.
But there is a downside…
Most free blogging platforms (except blogger) are an absolute rip-off. You create the contents, they place their own ads, make the money and pocket it, while you scratch your keyboard.
Secondly, free host sites can decide to delete your contents and that's it. I recollect losing two blogs on blogger sometimes ago after editing my theme.
If you are ready to take the risk and live with the limitations, then you can start with a free blogging platform.
What is the best platform To Start A Blog?
Your self hosted WordPress blog!
Having your own hosted WordPress blog gives you so much flexibility, access to thousands of themes and plugins that make your job easier.
What more? You own your blog, your content and your business.
7 EASY STEPS TO START YOUR OWN WORDPRESS BLOG
Step 1. Choose Your Blog Host
Advantages of Hosting Your Blog on Hostgator?
Hostgator has great customer support. You can easily reach connect to their help team via chat in less than 1 minute and get any issue fixed.
All Hostgator plans support unlimited storage and bandwidth. That means no limit on the size of files you can save or the numbers of monthly visitors to your blog.
Step 2. Select your plan
Even though Hostgator has different plans, their lowest plan ( hatchling plan ) is enough to start your blog.
You can easily upgrade anytime as your blog expands – if you think you want something more.
To start your blog on Hostgator free plan is easy. You can buy your Hostgator plan here. ( I recommend starting with Hatchling plan )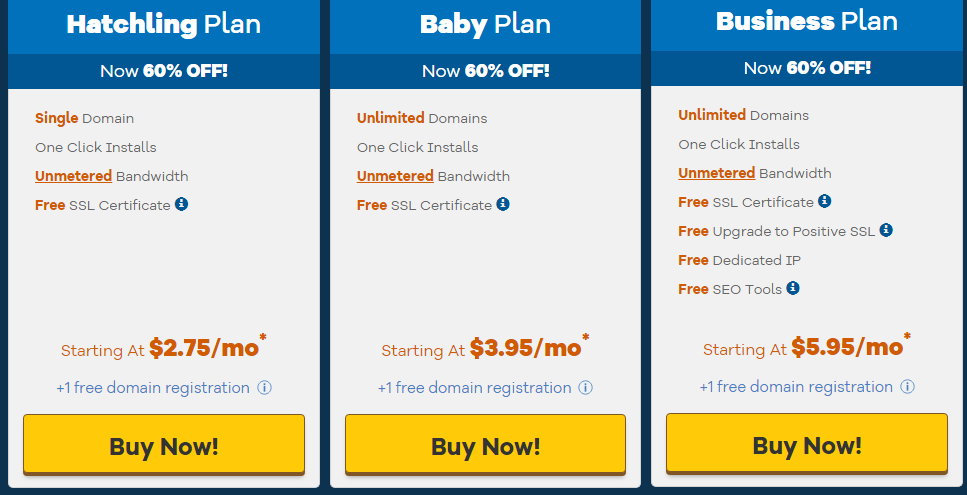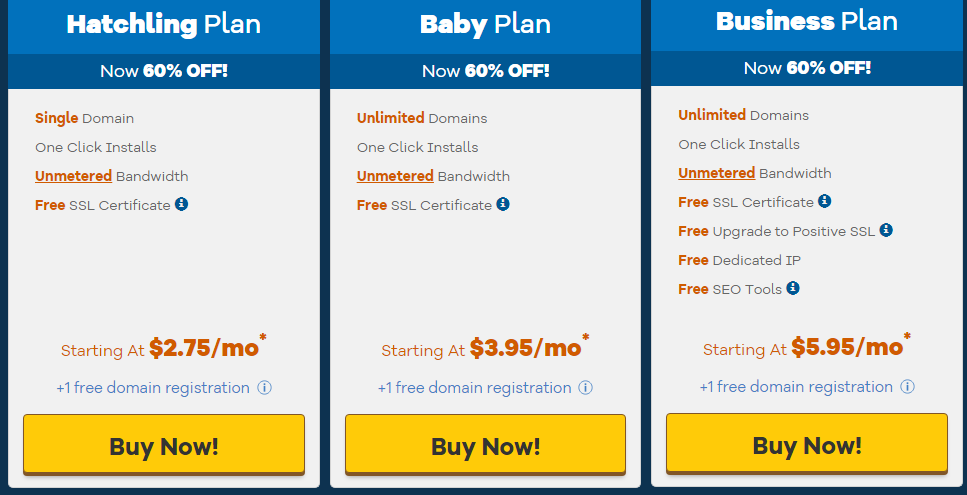 Step 3: Register a Domain Name
A domain name is your brand identity online. For example, incomefizo.com is my domain name on this site. It is my brand. So, I recommend you choose a name that reflect the niche of the blog you want to start.
For example, if you hear incomefizo.com for the first time, you would possibly guess it features business, money, finance or something of such. Right?
Secondly, I've heard of some really weird domain names. For example, jumpjumpkangaroo.com seems like a cool domain name but it won't be much use for a fashion blog as much as prettydolly.com would. Right?
To register a domain name on Hostgator, enter your domain into the domain field like in this picture.

If your choice of domain name is available. you can scroll down for the next step. If it's not available, it means it has been used by someone else, so you may need to think up another domain name.
Step 4: Fill Your Account Details
Hostgator will fill in the hosting plan you selected on the previous page for you – but you will fill in the Username and the security pin you want to use.
Your security pin can be a mixture of letters, numbers or special characters. It is what you will use to verify you as the account owner every time you contact Hostgator support.

Step 5: Fill Your Your Billing information
Hostgator accepts both Paypal and Card payment. So, you are free to choose your preffered payment method and fill in your billing information.

Step 6: Review your order and Checkout
Scroll up and review you information you filled to verify the information you entered. If you are sure, click on "Checkout Now".
And that's it: You just got yourself your very own Hostgator Self Hosting Account.
So What's next?
Hostgator will send you a welcome email to the email address you used to register. The email contains a link to your control panel and your login details: Username & Password
1. Click on the link and login to your Hostgator account CPAnel with your login details.
2. Install WordPress
Now that you are in your CPanel, you are almost done. The final step is to install WordPress. You can do that in really easy peasy steps:
Look for "Quick installs" in your CPanel.
Click on WordPress.
Fill your WordPress form with your details.
NOTE: You should use only your email address that you still access – and also different usernames and passwords from the ones you used for your Hostgator CPanel.
Crosscheck the WordPress form and ensure they are correct. You can always change any of your details later, even after completing your WordPress setup, but it's better to get it all done right now.
If you're sure, you've correctly filled your WordPress form, click "Install WordPress".
And Boooooooooom! Congrats. Your WordPress blog is done set up.