Are you searching for online proofreading jobs as an extra side hustle? Good. You are in the right place.
But let's talk about money. How much can you earn as a proofreader?
An average proofreader earns about $17 per hour. But there is something else: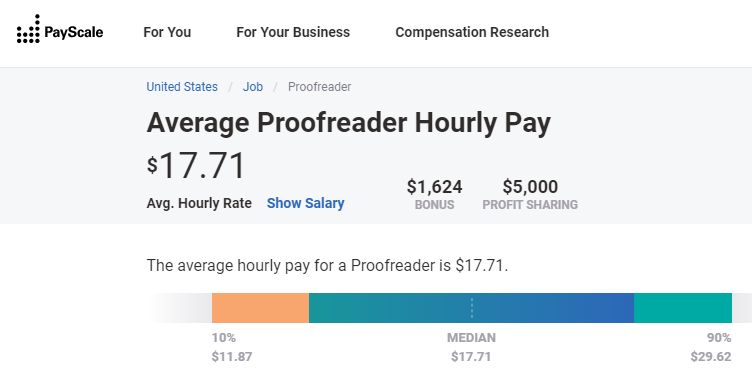 This job is mostly remote, and you are in control of your time. That means you can work from home from anywhere.
Upwork
Upwork is a well-known site for online gig jobs. This site connects freelancers and businesses who need their services.
If you are a proofreader, then Upwork is also for you. But there is something more:
With millions of users, be sure that your proofreading skills will get the needed exposure.
Payment methods.
Payment is by bank deposits of US users only, PayPal, Payoneer, and MPesa for Kenyan users.
Freelancer
Freelancer is another good gig job app to find online editing and proofreading jobs.
Freelancer was, in fact, one of the first – and arguably has the most users.
But on top of that, it's easy to sign up and get started, and you can bid for jobs almost immediately.
Freelancer payment method:
You can withdraw your earnings on Freelancer through Paypal.
GURU
Guru features all types of job gigs. So, you won't only find Proofreading and editing jobs here.
GURU may not be as big as Fiver, but, of course, take that only lightly. This site has over 800,000 users from different countries.
You may also want to know that you can choose to be paid hourly, per task, or on a recurrent basis.
WordVice
WordVice is another cool site to try out in your search for online proofreading jobs.
Some of the regular job openings on Wordvice are editing, transcribing, and content writing.
Wordvice doesn't have an "apply" form on their site. But do go ahead and send them a message by email.
EditorWorld
EditorWorld allows you to choose a field of interest to specialize as a proofreader.
That may be academic, personal, business, fiction, or pretty much any field.
Payment
Receive your earnings either to your Paypal account or by check.
LifeTips
LifeTips will hire you as in-house editorial support staff to proofread content for the web.
To do that, you need some experience in writing content for search engines.
The good thing with working here is that you are entitled to full medical benefits in addition to your basic proofreading job salary.
You can apply to Lifetips proofreading and editing job positions right on their site.
AJE
American Journal Experts (AJE) hires experts from all fields of knowledge to proofread, edit, or format contents.
To qualify for their online proofreading job, you need a minimum of a college degree. Some of the people that work with them have Ph.D. degrees.
To get started, go over to their site and check out any current openings that match your skills.
Indeed
Indeed is one of the most popular job listing sites online.
The good with Indeed is, most of their featured jobs do pay well.
Besides that, you can also tailor your job search to your specific location.
Other related posts to check out:
ProofreadingPals
Can you adapt your proofreading skills to any content – even if it's not in your field of interest? Then check out Proofreading Pals.
ProofreadingPals does have some minimum requirements:
You have to be in the US with a college degree and a GPA of 3.5.
If you have the requirement, then you are set to apply for their online proofreading job.
BabbleType
BabbleType is another online proofreading job site to check out.
Even though their proofreading vacancies are not open year-round since they prefer to work with a small team. But the good news is, their translator job positions are more relatively open.
So go ahead and check out the job descriptions on their site to be sure if you would be interested.
Edubirdie
EduBirdie helps students with their academic essays.
So, of course, most of the editing jobs on Edubirds are purely academic. Yes, you got it: Think of dissertation, project, and research papers.
Edubirdie has a Trustpilot rating of 4.5 at the time of writing. But there is something else to interest you:
EduBirdie has no specific minimum qualification on their site, and your application will be considered for approval if you pass their basic grammar and Essay tests.
EditFast
Before you apply for EditFast online proofreading job, be sure you thick just these two dots:
You must be a native English speaker with a degree in English.
You should be vast. That is, you must be able to edit texts on a wide range of interests.
That said, you also want to know about their payment structure. EditFast pays out 60% of project earnings to their Editors, and they retain 40%.
Payment is by Paypal.
Prompt
Prompt help students review their college essays and offer suggestions to improve.
Now, take note that their online proofreading jobs are only open at certain times in a year.
But do go ahead, add yourself to a waiting list to be notified when the jobs are open.
Scribendi
Scribendi does have some elite authors and proofreaders who write for top online publications. But that doesn't mean you stand no chance even if you are new.
Scribendi even welcomes applications from non-native English speaking countries. So, if you are good at English, you are good to go.
To apply for Scribendi online proofreading job, use the form on their site.
FlexJobs
Flexjobs is a top site for gig jobs and, to some extent, full-time jobs.
You will also find out that proofreading and editing jobs are quite common sights on this site – both part-time and full-time.
But there is one more tip with Flexoffers: You can search for jobs based on your location.
PureContent
PureContent proofreading positions are open to all countries. So, go ahead and apply even if English is not your first language.
If you can write and proofread texts in English, then you are set.
Also, PureContent won't give you a project unless it matches your skills.
To apply, go over to their site and fill a simple form. Next, wait for your approval email. After that, you are ready to take projects.
Edit 911
Edit 911 also has some requirements that make it a bit strict – if not hard. What do I mean?
First off, if you check out their site, you can see that they only need experts, teachers, or published scholars.
Yes, that may be cool – until you see this: "A Ph.D. in English or another writing-intensive discipline"?
So what if you don't have 'Ph.D. in English or another writing-intensive discipline'?
Well, no big deal. There are over 20 other cool proofreading job sites on this list for you.
ManagedEditing by WordFirm
ManagedEditing is another place to check out for online proofreading jobs.
There is no minimum requirement like a College or Ph.D. degree to apply.
Kirkus Reviews
Kirkus proofreading job seems to be a bit easy. That's because you won't be proofreading as such. Your job is to review books by self-published authors.
To apply for online proofreading jobs on Kirkus Review, send your resume, writing samples, and your field of knowledge through the form on their side.
OneSpace
Onespace is a general gig job site with job openings like transcription, content writing, and online proofreading jobs.
To register as a freelance proofreader on Onespace, go over to their site, and click the "Apply" button on the homepage, and fill the simple form.
EnglishTrackers
EnglishTrackers jobs are only open for native English speakers with a minimum of 2 years of proofreading experience.
And that's not all. You may also need a Ph.D. degree to ease your approval.
EnglishTrackers also recruits in batches, so their vacancy is not always open all-year-round.
But you can bookmark the site and check them once in a while.
Reedsy
Reedsy connects book authors, publishers, and relevant professionals like editors, designers, and marketers.
Reedsy limits the number of bids for a job gig to a maximum of 5. So, even if you are new, you can still land a job gig more easily.
But you may need to note that 10% of your earnings go to Reedsy.
JobsforEditors
Do you still need more online editing jobs? Don't forget to check out JobsforEditors.
For their requirement, you need a major in linguistics, international relations, or any related field and a proofreading or writing experience.
If you have those requirements, then go ahead and submit your VC right on their site.
Cactus Communication
Cactus communication is another great site to find online proofreading jobs.
This site has a wide range of fields of interest to direct your expertise. So, whatever your field is, they most st likely have a job waiting for you.
Fiver
Fiver is a micro job site with millions of monthly visitors. Fiver works the same way with Upwork and Freelancers.
But the only drawback is that many proofreaders here fix their price at $5. So it takes effort to fix better prices and earn more.
Fiverr pays you through PayPal, bank transfer, or Direct deposit.
ProofRead Now
ProofreadNow is one of the most thorough online proofreading job sites out there.
First off, to apply, you must be an expert in your field and a native speaker of your proofreading language. Also, be sure to take and pass their basic grammar test.
ProofreadNow has job openings only occasionally. But you can sign up for their employment email to be notified.
Kibin
Kibin is another good site to find remote jobs as an editor.
They don't usually have their job positions open all year-round but do check their site occasionally to be aware when the jobs open.
Gramlee
Gramlee doesn't have specific requirements on their site.
So go ahead apply, even if you have no experience, but of course, you do need your English skills.
Book Editing
Book Editing proofreader jobs are only open to native English speakers living in the US.
But there is a plus: You don't have to be an expert to stand a chance. Many of their writers even have a wide range of interests like science fiction, memoir, journalism, etc.
Many of their writers contribute top online publications, so you will be in great company if you are approved.
PeoplePerHour
Peopleperhour is a gig site to find part-time online proofreading jobs.
This site has over 2 million users.
You can apply for different kinds of jobs on this site, including online proofreading, even with no experience.
Peopleperhour pays via Payoneer, Paypal, or bank transfer.
Scribbr
Scribbr helps students to edit their academic papers and thesis. So, it is understandable that their first requirement is a minimum of a college degree.
Secondly, you must be familiar with both the United States and the United Kingdoms' use of English.
If you have those two requirements, then you stand a great Scribbr.
Scribe Media
Do you still need one more site to find online proofreading jobs? Check out ScribeMedia.
ScribeMedia helps prospective authors write their books. Now, your only job is proofread, edit, or help people to write content from scratch. Check out their site to apply.
Final thoughts
Have you tried any of these sites?