Have you asked if Instacart tipping is necessary in the first place? If you are an Instacart user, then that is one question you are going to need answers to.
And it makes sense. As an Instacart user, you might ask why should you tip an Instacart driver if they are getting paid by Instacart?
To understand that, it's is necessary to understand a few things about Instacart.
1. What is Instacart and How does it work?
With Instacart users can shop for ordered items from their favorite stores in their area and deliver the items to their doorstep.
As an Instacart customer, when you enter the zip code of your area, the site shows you a list of stores close to your area. Click your favorite store, add your items to the cart.
The site passes your order to a registered Instacart shopper who personally visits the store, do the shopping and deliver the items to your address in less than 2 hours.
How are Instacart shoppers paid?
Instacart payment plan deffer depending on whether a shopper is an instore shopper or a full-service shopper. 
Instore shoppers are direct employees working with Instacart with a fixed payment rate – between 10-15 dollars per hour.
Full-service shoppers are paid in batches and that depends on base payment, $3 bonus and tips.
Base payment – Paid by Instacart to the shopper. The amount depends on the order size, location, time of order and other things.
$3 bonus – By Instacart to any shopper that gets a 5 rating score from Instacart user.
Tip – By Instacart user as a token to an Instacart shopper ( Recommended by Instacart )
Related:
How much do Instacart shoppers make?
According to Glassdoor, an average Instacart In-store shopper receives a flat rate payment of $7 to $21 per hour, with $13 being the average – and that's on par with many delivery jobs in the gig economy.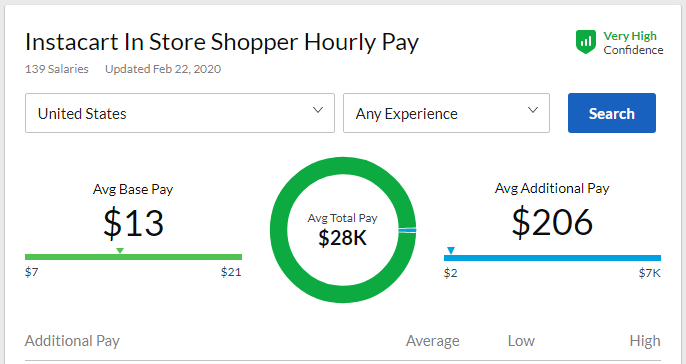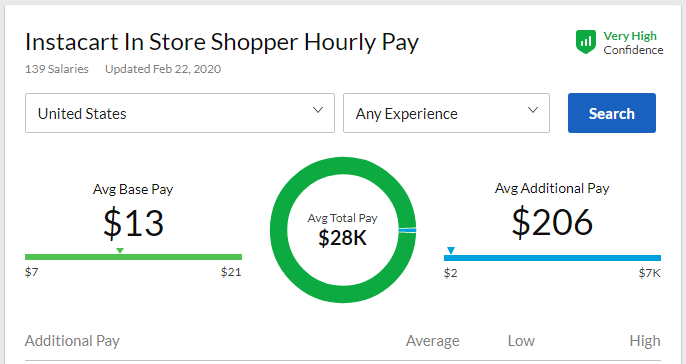 Full-service shoppers used to be paid a minimum of $10 per batch – and that included tips from customers. So, if a shopper had a $10 tip from the customer, he might get as less as 80 cents in base payment from Instacart.
Due to shoppers protests, the new payment plan is $5 base payment – excluding tips from customers.
Yes, that seems better on the surface – until we consider some other things:
The cost of gas to drive to the store and to deliver to the customer's address, the time and the physical labor.
Putting all that into account, then the payment can fall below the minimum wage.
What is the reason behind Instacart tipping?
Like many Instacart users, you might need the need to tip an Instacart shopper if they are getting paid by Instacart.
Now to go straight to the answer: Why would you tip an instacart shopper?
1. Delivery Expenses
Yes, Instacart shoppers receive base payment for delivery – but the expenses they incur to deliver the items easily eat up whatever they receive.
2. Mere Good Nature
Instacart makes it easy to sit on your sofa, swipe on the app, add items to the cart and have it at your doorsteps in less than 1 hour. 
Thanks, Instacart. But, the shoppers do the hard part. While many shoppers see it as hobbies and won't demand extra meed, it would be kind to do so.
3. Ease of Delivery
When an Instacart shopper gets your order, he would consider the likely expenses to shop and get the order delivered. He may reject the order if the potential return is not worth the stress.
Now, if the same order is passed to other shoppers and it's rejected again, Instacart may notify you to reschedule your order for a later time.
And that's the reason behind Instacart tipping.
Related:
Now, how much should you tip Instacart shoppers?
Instacart places a default 5% tip, but you can raise it for your shopper if you like. 10% – 20% is like the average by many users.
That means if you are spending $50 in grocery purchase, you are leaving $5 – $10 as a tip for your shopper.