You probably know already that most of the 9-5 jobs out there are meant for the jolly outgoing guys.
If you are an introvert, the truth is you probably want more time alone. But most jobs won't give you that. Let's think of this:
You just had a sorry moment dealing with a freaky company client who almost broke the cup of coffee on your desk.

And then your "walky-talky" colleague bumps in with a gist about the new visitor to her home – her new puppy.
If I were you, I would probably jump out through the window: Oh, gera here mehn, gera here!
So, what are the best online jobs for introverts?
Proofreaders help businesses and companies correct spelling and grammar errors in texts.
You can expect about $45,000 in average salary as a proofreader and up to $66,000 if you happen to be a top earner according to Glassdoor.
On top of that, most proofreading jobs are remote and flexible, which makes a good side hustle with a day job. Can you imagine if you have an easy side hustle that earns you an extra $2000 or $3000/m?
Now, if you are a beginner, you probably won't know how to land high paying proofreading jobs. So I would suggest you learn from anyone who has seen been through it.
I once read a post about Caitlin Pyle and how she built her highly profitable proofreading business. Caitlin has been featured on Forbes and Business Insider.
But the good news is that she has a FREE 76-minute workshop where she will show you all about how to land high paying proofreading jobs and make a full-time income – and even if you don't have a degree.
2. Work Remotely as a computer programmer
Av. salary: $76,526/yr
Can you spend a couple of hours a day in front of your PC fiddling with some scary looking codes? If you say yes, then you have what it takes to work as a computer programmer.
I know it's not a job for everyone – but there are some perks you will love about a programming job:
Low entry cost: If you have a laptop, and you can spare a couple of hours a day working on codes, then you are good.
If you also don't know how to program already, there are so many videos on Youtube you can watch to get started.
Programming is Lucrative: You are probably wondering what is the median salary for a computer programmer? Here it is according to Glassdoor: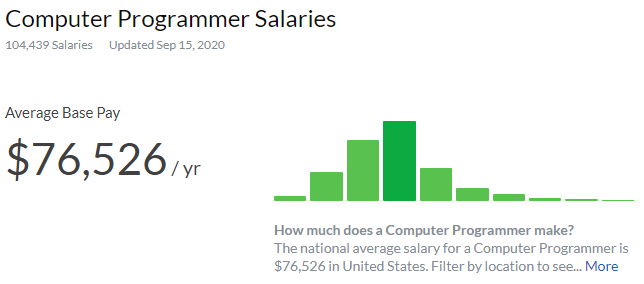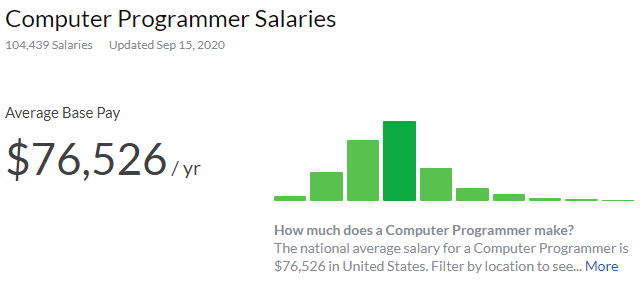 That's not bad! Right? And you don't even need a degree to work as a computer programmer.
3. Be a remote copywriter
Av. salary: $52,000/yr
Copywriting is easily one of the most in-demand jobs you can do online today and it's a perfectly suitable online jobs for introverts.
But can anyone write? You say!
I agree. Everyone can type, but not everyone can sit on the sofa for hours and stream out 2000 words, or spend the next boring 30 minutes hunting for a missing comma.
But if you can, then you are set to make money with copywriting.
Here are the steps you have to take:
Build a portfolio: Set up an impressive resume site to feature your previous works and make your prospective clients know you are a big deal.
If you are new and you haven't had clients yet, put up a couple of blog posts on your resume site to showcase your writing skills.
Reach Out: Don't sit on the cushion all day and wait for clients touse your doorbell. Instead, search for companies on Linkedin and pitch your cool writing skills.
Outreach: The best way to do this is still by cold emailing. Make sure you send about 10-20 cold email pitches to prospects every day.
It doesn't come easy, but that is just the way business works everywhere – even offline.
But the good news is, it would get better with your first set of clients; You can turn them to return clients with great works and leverage their good reviews to land more paying clients.
4. Start a POD store on Tee Spring
A POD store is a pretty good way to turn your creative flair into money. But way more than that, it's a freaking ideal online job for an introvert.
If you can spend 2 or 3 hours a day and create cool designs, then you have what it takes to do this job for a full-time income.
Now let's face it:
You won't earn your first full-time income the same month. But as you stay longer on the job, your income also grows. I have seen people make over $10,000/m with POD.
There are two ways to start:
POD sites: With Print on demand sites like Teespring, they already have the store in place. You only sign up and upload your designs.
Shopify store: With a Shopify store, you will need to set up your store and link it with Printful. It comes with more work – but you have more control over your store.
To boost your sales, you can spend some bucks on Pinterest ads, capture your buyers' emails and sell to them repeatedly.
I really recommend watching Greg Gottfiends's youtube videos real big just with POD on TeeSpring.
Av. salary: $100,000 plus – or less.
5. Transcription Job
Av. salary: $24,000/yr
If you are a good listener and you type fast, then a transcription job is a good deal for you.
As a transcriber, you listen to the audio messages and convert them to text. And you need just two skills:
Be a great listener
Be good with the keyboard.
If you can do that, then a transcription job may be a suitable work from home job for you.
6. Book Keeping Job
Av. salary: $30,875/yr
A Bookkeeping job is another online job for introverts you may want to consider.
What bookkeeping? You say!
Okay, I'm talking about a remote bookkeeping job where you work from home, and the only guys you see around are your puppy, your kitten, and your PC.
Want to start working a remote bookkeeping job? Here are 5 steps you can follow right now:
Learn the details: Start by reading more tips on what virtual bookkeeping jobs entail on youtube.
Be a brand: If you are new. You probably don't have a portfolio site, so open a Linkedin business account for a start.
Find your clients: Find companies on Linkedin.
Pitch: Forget what you have probably heard so far about cold emailing. It's still the best way to find prospects for your business.
Sign up: Set up your profile sites that hire online bookkeepers. Here are 5 of such sites to check out:
7. Sell Handmade crafts
Av. salary: Depends. 100,000 plus or less.
Etsy's job is one of the best profitable work from home jobs for introverts.
Yes, you will need some creative cap, but you don't have to be an artistic genius. In fact, 99% of those that make full-time income on Etsy are not.
But what if you pretty suck at handmade crafts? You can still make money flipping Etsy products.
Here's how it works:
You buy some beautiful crafts on Etsy and resell them for a higher price on the same Etsy or on Craigslist.
I know a couple who make more than a full time income just flipping products on Craiglist.
And their business model is this simple: Buy old items cheaply, refurbish and resell for 5 to 10 times the original price.
8. Sell Photos Online
Do you have a flair for taking nice pictures? Then why don't make it a side income?
Web masters pay millions of dollars on stock photos to make their website look great.
And here is the good news: It's a perfectly suitable job for introverts.
Also, the more stock photo sites you upload your photos on, the more photos you make, the more your income will build up.
9. Sell your products
Av. salary: Depends $100,000 plus – or less.
If you want to sell in the real world, you have to be outgoing (at least to some extent) to get more customers.
But in the online world, it is different.
I don't care if you are the most reserved introverts around. You can set up a store and make a full-time income.
But let's face it: It may not come cheap!
You will need a Shopify store, some bucks to run a Facebook ads, and a good sales funnel to capture your buyers emails and turn them to return customers.
But if you are ready to go with it, then you may want to know how much you can make.
The truth is, it depends!
It may be $1000 per month, $10,000 or more. And I know those who make more than $200,000 on Shopify.
The bottom line is how long you've been running your store, and how many customer emails you have captured.
Most high-earning Shopify sellers have been in the business for long and have captured a lot of emails. So they can repeatedly sell to the customers on their email lists even without paying for Ads as much as they did before.
So you may want to see your first Ads cost as an investment that will eventually pay off with compounding returns.
And But the good thing is, your income will continue to grow as you .
10. Start a Dropshipping Business
Av. salary: Depends.v$100,000 plus – or less
You are probably aware that Dropshipping is a hot cake of a business right now. And you have probably read a couple of posts about how some guys make $5,000+ with dropshipping stores.
Is Dropshipping that cool?
There are two things that make dropshipping a really cool online jobs for introverts:
You don't have to worry about running an inventory or ship your customer orders.
And you are not even going to interact directly with your customers.
How does dropshipping work?
You show pictures of products on your store, receive your customer orders, and send the orders to manufacturers. That's all.
The manufacturer handles shipping and delivery, and you automatically earn your commission.
And if you that you be refreshing your page all day checking if "Joe the Buyer" has made an order so you send it to the manufacturer, you are wrong Tom!
It runs by itself, and you don't have to be there.
So what do you need to run a profitable dropshipping business?
Know how to find hot selling products to sell.
How to use Pinterest to drive traffic and sales for your store.
And most importantly, you should collect your visitors' emails, follow up on them, and turn them to repeat buyers.
11. Blog on the side
Av. salary: Depends. $100,000 plus – or less
Blogging is easily one of the best online jobs for introverts. Of course, not everyone who blogs is an introvert. Right?
But here it is: When you blog, you are there sitting all alone with your companion – your laptop.
And the best part? It's easy to start.
And on top of that, the income potential is also unlimited; The more your blog grows, the more income you can make.
Okay, I know blogging comes with its challenges. You have to come up with fresh content for your blog and keep your audience engaged.
But, here it is:
When your blog grows, you can hire more hands to help with some stuff. Right?
And by doing that, you free some time for yourself, have more contents on your blog, get more visitors and make more money.
Want to start your own blog, check out my step-by-step guide on how to start a blog here.
12. Turn your skills to a side income
Do you have some cool skills you can monetize? Then, you probably have one of the best jobs for introverts already.
Okay, what skills are you talking about, you round head?
See this:
Can you design a logo, do a proofreading job, write an email copy or just anything you can do better than a couple of peeps around you?
Then that's it.
In fact, you'll be surprised at some pretty funny gigs people use to make money on Fiverr. Like:
I will make your puppy smile for two weeks – or
I will make your cat dance to hip hop.
So here's the rule: Is there a skill you have that someone else needs? If you are not using it as an extra income, then you are probably throwing money out of the window.
Bonus Side income ideas for introverts
These two are not real jobs, but you can use them to earn extra cash each time you are indoor.
1. Watch Videos
If you stream videos for more than 1 hour on Youtube or Instagram daily, you need to get some of the money you spend on data back.
But with Youtube or Instagram? Sorry, Tom. It's a good night to your bucks!
That's where Swagbucks comes in.
Swagbucks is a GPT app that pays for watching small video clips, taking surveys, or polls.
You also earn rebates from Swagbucks when you shop at any of their partner online stores using their app.
Swagbucks pays in SB coin. You can redeem your SB coins as cash though Paypal once you reach the minimum payment of 2,500 SB.
2. Share your opinions for money
Do you have a couple of minutes to spare daily, and you don't mind sharing your opinions about some of the products you use?
If yes, then you can make some bucks doing that.
So, how does it work?
Many companies want to know what consumers think about their products.
And to do that, they partner with survey companies to capture customers' reviews trough surveys.
Some of these companies will reward you with points, which you can redeem as cash, while some other companies give out free products instead.
Reviewing products or taking surveys is not really an online job. But if you have some free time, then make some quick bucks with surveys.
Swagbucks
Opinion
Inbox dollars