Are you thinking of working as a Doordash driver and you are wondering how much do doordash drivers make money? Then this Doordash review will answer your question.
The internet and the gig economy has made it possible to make money in more ways than ever. Don't look any further, Doordash, Ubereats and Instacart are examples.
Doordash Review – How does Doordash work?
Doordash is a food delivery company that link up local restaurants with online customers.
When a Doordash customer orders for a food right from Doordash app, the order is sent to a registered Doordash drivers.
The driver personally goes to the restaurants to claim the order and deliver to the customer doorstep.
So as a Doordash driver, you get paid to walk and deliver food.
What are doordash driver requirements??
To make money with doordash, you need to do sign up on their website. Afterwards, they will contact you through your Email.
18 years old and above
A smartphone through which the company can tip you when a customer makes an order
Own a valid driver license and insurance
How do doordash drivers get paid?
But how does a doordash driver make money? Now, that is what matters. Doordash pays its drivers an average of $5 plus for each delivery. A doordash driver easily completes 3 deliveries in one hour.
So, a doordash driver makes up to $18 plus per hour. Dashers drivers receive their payments on Tuesdays of the following week. The company makes its own money by keeping a certain percentage of the order completed for the restaurants.
Doordash ratings: What does it mean?
Every customer that you work with will be able to rate you on a scale of five – based on:
How often you complete customer orders: To avoid being rated 0 on this, once you accept an order, you need to complete the delivery to the customer
How quickly the order was completed: Most customers want their orders completed very quickly. Thus how quickly you complete a customer order determines what ratings such a customer gives you.
As a dasher, you must always keep your rating good – if you must continue to get orders or keep your job on Doordash. To be on a really great standing, you should always make sure that your order completing ratings is 100%.
It is better to reject a customer order you are not comfortable with than to accept and not complete the order.
You must also ensure that you don't get to reject too many customer orders. Doing such will suck up your order acceptance ratings which may result in you losing your job as a dasher.
How much do doordash drivers make?
The average hourly salary for Doordash drivers according to indeed is about $14.48.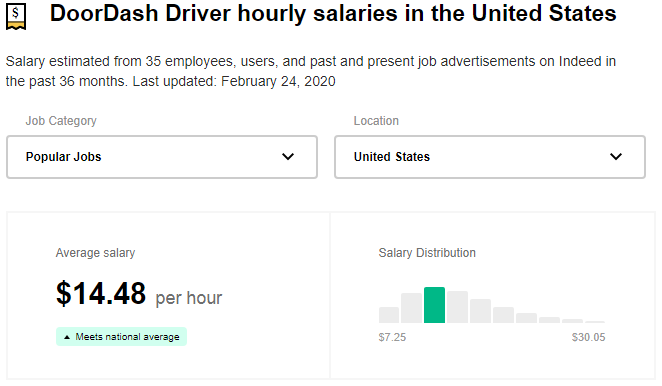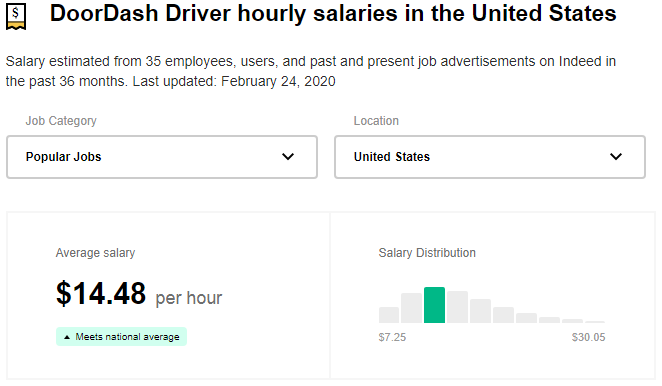 Now, if you work 2 hours a day, you can expect an extra $579 in side income.
Now, let's be real. That's not great for a full time job. But for a side hustle, I think it is. With 1 or 2 hours of your free time a day, you can make $500 in extra income.
And there are some ways to raise your earnings further:
Firstly, since your income depends a lot on the numbers of deliveries you complete. To complete your deliveries quickly:
Your vehicle works smoothly. Working with a faulty vehicle can be a bit tricky for a doordash business. If the vehicle develops a fault in the course of your delivery job, you end up losing your delivery and the bucks.
Beware of high trafficked zones: accepting orders mostly from high traffic areas is one sure way to waste enough time as a doordash delivery man. The high traffic slows down your delivery rate and slashes your income by a large cut.
Think of big orders: Knowing that you end up with a cut or proportion of the size of the order as your take home, it makes sense to always go for the big chunks when you've got the choice.
How old do you have to be to work at doordash and what do you need?
To become a doordash driver, you must be at least 18 years old and have a smartphone – android, window or iphone to make it easy for the company to tip you each time there is a customer order close to you.
Food delivery jobs do come with some funs
Besides the income, working as a food delivery agent does come with some fun:
The job helps the dashers to build connections and network which obviously may prove to be highly valuable in the nearest future.
A food delivery job helps you to build more interpersonal and communication skills.
The flexibility of the job makes it easy to run on a part basis while working your day job.
Working with Doordash can be a decent source of income of income – of course, if you maximize your delivery time.
Also, for someone with a daily job, it can be as simple as checking the app for a close or nearby order while driving from work, picking it up and reaching for the customer.
My final thoughts on this Doordash Review
While, working a food delivery job like Doordash won't make you rich. Not many jobs would do anyway. That said, Doordash is a decent and fun way to earn side income.
Besides that, the flexibility of the job also means you can choose to decline or accept a request and fix your schedule.
Share your Doordash review experience.
Do you have any experience with Doordash? You can share your thoughts in the comments.