If you want to work from home and make money online on a weekly or monthly basis, then you in for the pizza.
In this post, I will be covering some of the work from home job opportunities that pay well. These jobs are still hiring, and the payment is on your terms: weekly or monthly basis.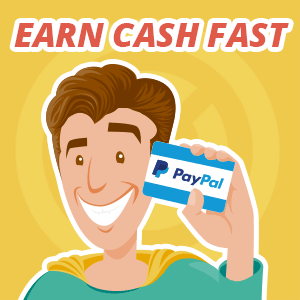 Now, what I like about these jobs is that you work on a flexible basis and mostly full time. Okay, I have nothing against freelancing, but, I think it's not a dependable way to make money.
Secondly, for most of these jobs, receiving your payment is easy, because most of them pay directly into your PayPal account, while others pay you through bank transfer.
Now, here's a list of work at home jobs that presently hiring.
Varsity Tutors
Varsity Tutors is a work from home job that would appeal to you if you love a tutoring job.
I personally love tutoring and have taken up tutoring positions on some occasions. I just love the fulfillment that comes with sharing your knowledge with new folks. And I think a teaching job at Varsity Tutors is something you will enjoy - of course,
if you love a tutoring job
.
To work with Varsity Tutors, you can
sign up here
.
Get My New Printable Cartoon Guide Budget Planner - FREE
House Sitter
My most interesting teaching position was a basic school teaching job, just before going to the University. But I must confess: It's not fun dealing with the noise. So, if you just can't cope with the noise, then this may not be for you!
But if you love Doris Day's all time hit; Que sera sera. Then, you would love this. Housesitter will link you up with individuals who need house sitters very close to your location.
To work with Housesitter, you only
need to sign up
and the company will take care of the rest.
Linkedin learning
LinkedIn Learning is a platform that links up tutors and knowledge seekers in various fields. Now, it doesn't matter which field you are knowledgeable on. If you can teach someone what you know, then you can make money on Linkedin learning.
To become a tutor on Linkedin learning, you can follow
this link
.
Decluttr
If you the loved pops as early as when Danny Glover worn boot cut. Then, you most likely have some really old and unused Pop or Jazz DVDs or some other old items you no longer use.
You know! But have you thought of selling them off and making some money? That's where
Decluttr
comes in. Declutter is an app that helps you to make a clean sheet of your home and make money doing it.
You can sell off unused item like old books, unused DVDs, video games or other electronics
on Decluttr
and you get paid directly into your PayPal account.
Although, Decluttr is not a full time work from home job, but it can be a good source of occasional extra income.
Click worker
Clickworker
is a micro job site that pays you for doing some of the easiest jobs online.
The payments on Clickworker is low compared to what you should expect from a full-time job, but you can still make anything from $2 to even $20.
It all depends on the job you choose to take. But, most of the jobs are pretty easy stuff you can complete in a short time though. For example, like testing web pages or translation.
Flexjobs
If you love to make some decent money working as a flexible job, then you would probably love to try out Flexjobs.
Flexjobs
features a list of work from home jobs from different parts of the world. They also group the works into different categories.
Github job listings
Welcome to my old world!
Okay, I haven't left programming - I still do some occasional coding once in a while and I would soon return fully! Now, if you're like me, and you want to make good money as a code Ninja, then you should be on Github.
There are different job positions you can choose from, ranging from Ux design to web and app development jobs. You will
be working remotely
and
with good payment
In fact, the average salary for a Java developer on Glassdor is $72,417.
Other Side hustles to make money online
Now, some of these may not fall into work from home jobs category, but I include them here in case you want to try out some side hustle ideas.
Ride sharing Uber
If there's a job on this list I love most [ apart from teaching ], then I would say a food delivery, or a ride sharing.
No, it's not about the Pizzas!
Not even because of the income that comes with these jobs, but, the fun, especially if you love meeting new people, and forming a network of friends.
You never know whose connection would clinch you that
Mill
+
ion
dollar contract!
Ha ha! Now, you see what I mean!
So, the income side of these jobs is a bonus. But, let's talk about the income.
How much you earn working with Uber depends on the city where you work. However, you can expect to make between $15 and $20 per hour. Uber pays you directly into your bank account.
You can follow
this link
to sign up as a Uber driver.
Food Delivery Job
If you love Pizzas and you love bucks, then you should try Doordash!
With
doordash food delivery job
, you'll be making an average of $5 on each delivery. So, your income depends on the number of deliveries you make. But, on average, a dasher can make up to 3 or more in one hour.
So, that means you will be making up to $15 in hour. You can read more
on Doordash delivery job here
.
Swagbucks
Swagbucks is a top money-making app where you can make money doing basically anything on the internet like taking surveys, watching videos or even for playing games.
Swagbucks also pays you some money if you use their search engines to search for information online, just the same way you use Google.
Swagbucks pay you through PayPal or gift cards and you can request your earnings even on weekends.
You can
sign up for Swagbucks here
.
Dropshipping with Shopify
Drop shipping is a business model that can earn crazy good passive income right from the corner of your home.
But what is Drop-shipping anyway?
Simple
:
Let' say you want to set up an online store, but you don't want to run your own inventory. You can just show pictures of manufacturer's products on your Ecommerce store.
Boom!
Someone sees the pictures, likes the products and orders for them!
Once you receive your visitor's order, you deduct your own profit, order the product from the manufacturer and the manufacturer ships the item to your visitor.
You can just sit down on your coach, snacking on Doritos, and see the product is delivered!
You don't have to spend a lot of money to start. I even suggest you
sign up for a 14 days free
trial on shopify first.
You can
watch this video
to get started.
Distant jobs
If you are an IT expert or a code Ninja, this is definitely for you! Working as a web developer job, UX designer, computer programmer or anything IT related is a sure high income job.
Distantjobs
connects you with companies who need your service. What more? You won't be working as a freelancer, but as a full-time remote staff for the company.
The only thing you need to do is to register on Distant jobs, fill up the required information and wait for them to link you up.