Do you have used scrap appliances lying around? It's time to turn them to cash.
Having used appliances lying around the house can be messy, especially if you no longer need them.
In short, they are only there to occupy space and make the house look cluttered. And that makes you wonder if you can you sell them off pretty quickly and turn them to cash?
Guess what, you can!
In this post, I will show you how to sell your used appliances and turn them to cash.
You will also learn how to start a flea market business for used appliances and turn it to a profitable side hustle idea.
For other ways to earn quick extra cash, I have a post on how to sell gift cards for cash instantly.
Who buys used appliances near me? Here we go…
1. Local appliance stores
There are a couple of people who buy used appliances at local stores near you. The good thing with this approach is the ease of delivery that it offers.
You can use Google to find a local store. To do that, search for "used appliances store near me" or "used appliances in" + [your city].
Now, keep in mind that you can even sell appliances that are no longer functioning by scrapping them to local scrap metal dealers. You can see the detailed guide on that here.
Get paid to recycle your used appliances
Where can I sell used appliances?
Many components of used appliances can be recycled and reused to make new products.
And in fact, many companies are ready to pay you for that. Think of it: You are helping them to minimize costs and save the environment.
Nevertheless, these appliance manufacturers are big companies, and they won't likely buy your used appliances directly.
A smart way to get around that is to go through Arcautility. It's a site that can help you to find an appliance recycling program in your city.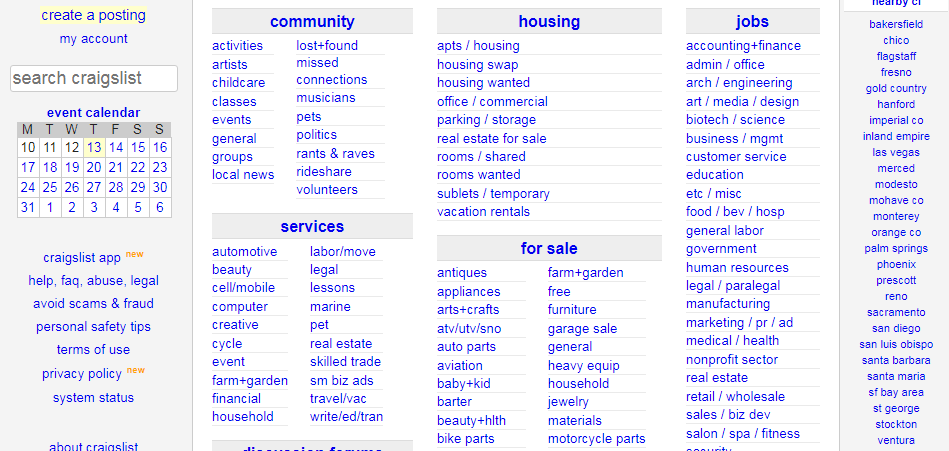 Craigslist is easily one of the largest sites where you can sell your used appliances with over 50 billion monthly page views.
With Craigslist, you can easily find buyers for any used appliances near your exact location, which makes delivery and payment quite easy.
The cool thing with Craiglist is that you don't need an account to sell your used appliances on their site. If you can verify your phone number, then you are good to go.
Payment: Cash on delivery
Not as big as craigslist, but Varagesale is a classified garage sale app that allows you to target used appliance buyers in your community.
So, if you are looking for who buys used appliances near your exact location, then you would like to check it out.
Now, keep in mind that Varagesale is only available to users in the United States or Canada.
Like craigslist, it's free to sell used appliances on VarageSale. VarageSale, however, requires you to create an account, verify your location via Facebook to be approved.
After approval, you are officially a part of VarageSale users in your community.
While it may seem like more work, the screening process does make VarageSale more secure than other anonymous classified ads sites.
Payment: Paypal.
eBay is an online market place for different kinds of items, including used home appliances.
Online craigslist, you have to create an account to use eBay. It's, however, worth it since eBay also has the potential to expose your listed items to millions quickly.
Payment:
PayPal, cash on pick up.
Other places that buy used appliances.
Yet another free classified app that helps you find buyers who buy used local appliances near you.
Besides appliances, you can also list different types of items for sale on this site.
With Wallapop, you can sell used appliances quite fast or even exchange them for other items.
Payment
Cash on delivery for nearby buyers. Use the Wallapop app to handle shipping and payment if the buyer is far from your location.
OfferUp may have the feel of Etsy or eBay – but it works more like craigslist by helping you to target used appliances buyers near you.
Besides appliances, OfferUp also allows you to list different types of used items to sell.
To get started, however, you have to download their mobile app and create an account.
Alternatively, you can head over to the site and click the sign-up button at the top right-hand corner.
Payment:
Receive payment via the app. You can receive cash in person for local sales for local or nearby sales.
Who buys used appliances – 7 Tips that will help you sell faster on appliance listing sites?
Google
Still searching for "who buys used appliances near me", try the good old Google.
Google search engine is pretty accurate at helping you find used appliances buyers near your specific location.
To find used appliances on Google, simply search for "who buys used appliances near me".
The "near me" phrase helps Google to streamline the result to your particular location.
Start with a great title.
The first thing that buyers will notice about your listing is the title.
While it's great to let buyers know whether the appliance is used or old, the title is not the best place for that.
You would do better by highlighting the best features in the title and saving the details for the description.
So don't write a title like this: An old and used dryer that looks clean.
Write something like this instead: A clean used dryer, with steam drying.
Your description is equally important
The description is where you have to list the details about the appliances you are listing to sell.
In short, you are going to tell the potential buyers the good and the bad about your listing.
So go ahead and be honest as you can without discrediting yourself. Here are 3 rules to follow.
Be honest: The first thing to do in your description is to be as honest as you can. If there are dents and marks, then don't hold them back.
By being honest, you will save yourself from guilty feelings and reduce the possibility of the buyer returning the appliances.
Don't overemphasize the bad:
While you have to be honest with the condition of your listing as best as possible, you don't need to go overboard.
Don't repeat THE SAME downside 3 or 4 times, or else you will raise a red flag.
Use common words: If your appliance is old, then say "old". Don't say "outdated".
Don't forget the great features: While you have to let buyers know if there dents or marks in your listing, don't also forget to add its great features.
By doing that, you will pique buyers' interest to buy your listing despite the listed dents.
Use good camera shots: Marketing is mostly visual. The camera shots you take for your listing can make or break your chances.
Use good cameras with great effects and ensure that the shots are bright and clear with great contrast. But don't fall into the trap of using fake pictures from the internet.
Fix the right price
Pricing is another thing that buyers look for before buying used appliances.
You might be tempted to sell your used appliances cheaply, especially when you are trying to dispose of them quickly.
But it might not be the best idea. In reality, it can raise a red flag and turn off potential buyers.
Think of the cliche: If it's too good to be true, then it's probably too bad to be good.
So, don't sell too high and don't sell too cheap.
You can have a rough price estimate for your appliance by considering its model, age, and other specifics.
Be clear with your return policy
Having a return policy assures buyers that they are free to return the appliances if the needs warrant it can help to win their trust.
Nevertheless, be wary of some buyers might want to use the appliance for a time and send it back or return it when it develops faults on their ends.
To avoid that, be clear with your return policy and specify:
On what terms you are ready to take back the appliance.
If you are ready to take back an appliance that develops some defects from buyers' ends.
How long a buyer can wait before sending back the appliance.
Accept cash payment for local sales
While there are different payment methods, cash payment is the safest if you are meeting in person with the buyer.
Most listing sites also recommend accepting cash payment for local sales.
However, in a situation where the buyer is far away, sites like eBay and Decluttr can help you handle the shipping and payment.
Tip: Consider flipping others' appliances
Did you know you can buy and sell used appliances for cash as a side hustle?
Buying cheap appliances on craigslist and flipping them at higher prices can be a pretty rewarding side hustle.
Some folks have built a very profitable flea market business using the same old craigslist.
While it may seem like a big deal of work if you are new to it, there are a few basic guidelines most flea market sellers follow:
Have negotiating skills: Find cheap appliances to flip and try to beat the price down if you are meeting the seller in person.
Deal with local sellers: Search nearby sellers using craigslist to reduce the cost of transport and maximize profit.
Inspect: Be sure to check the appliances and ensure they are in proper shape.
Space: Merely having used appliances around can be messy. You need a covered place near your house or better still a garage to keep them.
Truck: Telling buyers that you can help with delivery will help you flip them faster and raise prices higher.
Try scrap appliances: Sometimes you can earn more with non-working appliances as the sellers merely want to dispose of them cheaply. Just make sure you beat the price down as best as you can and flip the parts separately as scrap metals.
Check out my post on scrap yard near me to learn how to sell scrap metals.
Final thoughts on who buys used appliances near me
Have you tried any of these methods? How did it go? Don't forget to share the strategies that helped you find sellers who buy used appliances near you.