Are you considering a rent-to-own mobile home? You need to read this.
You've probably heard it a zillion times already:
"Getting a home is one of the most important decisions you will need to make."
We'd all love to buy or even build a new home – but the issue here is money. More so, when you went to college on a student loan, and you are still trying to untie its rope.
Will you still go for a mortgage again?
Or will you consider a rent to own option?
In this post, I will show you some things you need to know if you want to go for a rent to own home.
Ready? Here we go.
Owning a House is Expensive, But You Have 3 Choices.
Having a home of your own is one of the most expensive things you will do. For example:
The median price for a new house in the US is $200,000.
Of course, you have 3 common options:
Buy or build from scratch: $308,000 / 2,500 sq ft average.
Rent: May be about a$1,000/month.
Rent to own – More on it shortly,
As you can see, the big issue is, you will still shell out thousands of dollars in the end nonetheless. Now, let's look at these choices one after the other:
Option 1 – Buy a home.
Buying a home is cool, but at about $305,000, you will likely need a mortgage.
Now let's see:
If you take $250,000 mortgage loan at 3.5% interest rate for 30 years, with a down payment of 20%, your monthly payment will be $1,133.
But there are 2 issues:
You probably don't have enough money for down payment – or
You don't want to be tied down to a mortgage loan for that long period.
Option 2 – Rent a place.
If you don't have enough money for down payment on a mortgage loan, you probably want to consider renting a home instead.
You don't need to worry about down-payment.
It's easier on your purse since you pay in bits.
But the problem with renting a home is that you can't build equity with rents.
Moreso, rent is only cheap for the short term. If you stay on rent for too long, you will be paying more.
For example:
You will save more in the first four years on a $1,000 monthly rent than a $250,000 mortgage at 3.75% interest and 20% down-payment.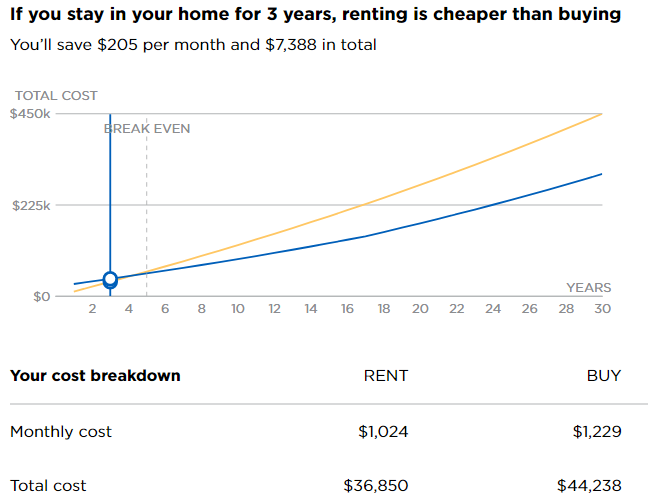 But after five years, then you will be paying more on your rent.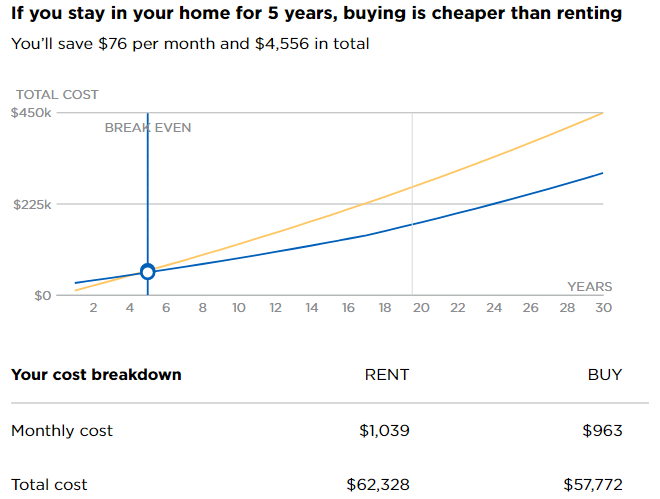 And after 30 years, you would have paid about $96,800 more.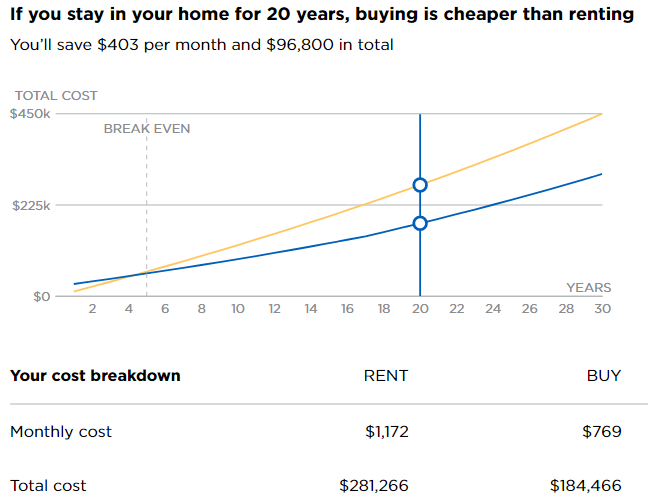 Option 3 – Rent to own (Lease)
Now, the third option is about taking the best sides of the two earlier options.
A Relief from down payment – which you won't get with a mortgage, And
Equity growth from your new home – which you won't get on rent. Right?
Now, that's where rent to own comes in.
But then, you can still consider it as an expensive choice:
The median price of a new home is $200,000.
Secondly, even though there is no down payment, you have to pay option fees to have the right to buy the property.
Now, if there is a way to scale down the cost, you should consider rent to own a mobile home.
Of course, a manufactured home doesn't have the same value as a traditional home.
But, it's a good compromise for the goods of the two choices.
Advantages of rent to own mobile homes.
1. You can change your mind.
With a rent-to-own home, you can stay in the home and make payment in bits to become the owner.
But here is the big part:
Even though you are already staying in the home, it doesn't mean you are stuck.
If you have reasons not to go ahead with the purchase, you can meet with the buyer and negotiate a change of plan.
You can't have that kind of deal if you are buying a house straight away.
2. Opportunity to correct your credit score
Unlike mortgages, rent-to-own contracts give you a buying right with low credit scores.
That means the home is kept for you while you work to improve your credit score.
And with an improved credit score later on, you can just get a small loan after the maturity of the agreement to clear the remaining payment and own the home right away.
3. You are building your equity.
The big advantage that a rent-to-own home has over ordinary rent lies in equity building.
If you rent a $250,000 home for $1000 monthly. After 15 years, you would have paid about $207,520.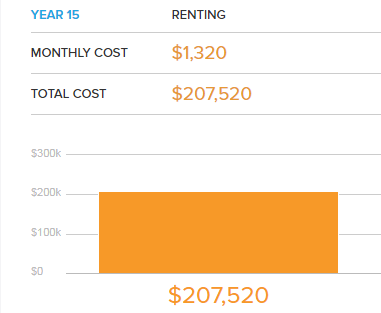 But the problem is, that money doesn't go into your equity.
With rent to own, your payments add up over time to your ownership and hence build your equity.
4. A Move against home price.
Value and Price changes are part of the economy.
For example, Home prices changed by 126% between 1975 and 2019 in the UK.
And if you are buying, you will likely be paying more for the same home in the next ten years – if prices go up.
But with a rent-to-own contract, you negotiate at the current home price, even though you will make the final purchase sometimes in the future.
That means even if the home prices go North, you will still be paying your agreed price.
Issues to sort out for your rent to own mobile homes
1. Be clear about late payment fine.
Things happen. People lose jobs, emergencies occur, sudden expenses may pop up. But there are no excuses for contract agreements.
So, before you sign a rent to own home contract, you need to be convinced what the terms say about late payment.
Will it forfeit your right to buy?
Or worst still – lose your right to buy and also forfeit your option?
Knowing all these keep you informed on what contract you are entering and allow you to weigh your choices.
2. Are there specific issues you don't know about the home?
That a property looks good doesn't mean it's right for you. There are still things you need to know:
Does it offer you easy access to work?
Is the property in a peaceful neighborhood?
Are there any physical issues in the home you will have to fix?
Is there any title issue that the owner has to settle?
Try to know as much as you can and be sure you are satisfied.
If you don't have the time, you can get a home inspector to help you out.
Yes, it would probably cost you between $300 – $500. But it's worth it if you weight the pros and the cons and how much you can eventually lose if you skip this step.
3. What happens if you can't purchase at the scheduled time.
You need to be clear on what happens if you can't purchase the house at the maturity of the agreed date.
Yes, you won't get back your option and the monthly payments that add up to part of the purchase cost.
But you have to find out what your landlord has in plan for that situation:
Extend the rent period to give you more time for purchase?
Offer the place to you on rent instead – with no buying option.
Withdraw the place from you and offer it out to someone else.
You also need to know if the landlord will be open to future negotiations.
4. Remember you have no claim over the land.
Rent to own ownership only covers the property. You don't own the land even when you complete the purchase at maturity.
That means, you still need to pay rent – this time, for the land.
For a rent to own traditional home, you are landlocked anyway, so you have to deal with your land rent.
But for a rent to own mobile home, you have the option to move the property to a new site.
5. Be sure the house qualifies for a mortgage.
Before you finalize terms with a homeowner, you have to do your findings and be sure that the home even qualifies for mortgage inspection.
Some rent to own homes do not.
And you don't want to put yourself in a situation where you have paid the option and made some monthly payments towards acquisition.
And then it got to your ears that your intending house doesn't even qualify for a mortgage inspection.
6. Find out about owners' mortgage and tax obligation
Before you finalize a rent-to-own home contract, be sure of the owners' mortgage plans and tax obligations.
Things do go wrong.
A homeowner can fail his property tax obligation and the government places liens on the property.
Another can fail to meet up with his mortgage plan, and lose the house to collateral?
You don't want to be caught in that web.
Yes, you can sue, but it's a long route you can avoid if you find out about the owner's mortgage plan and tax obligation before you sign the agreement.
And it doesn't mean you are prying into the owner's personal affair.
Remember, you are putting your money down, and it's your right to know how your money ends up.
7. Finally – Keep in mind that home prices can fall
While it's most likely that home prices go up, don't rule out the possibility of the opposite happening.
And if that should happen, you will be paying more for the house than it's worth.
And it won't probably do much good to opt-out of the agreement either.
You will have to forfeit your option and the money you've made towards the down payment.
Do you have experience with rent to own mobile homes? Please share in the comments.